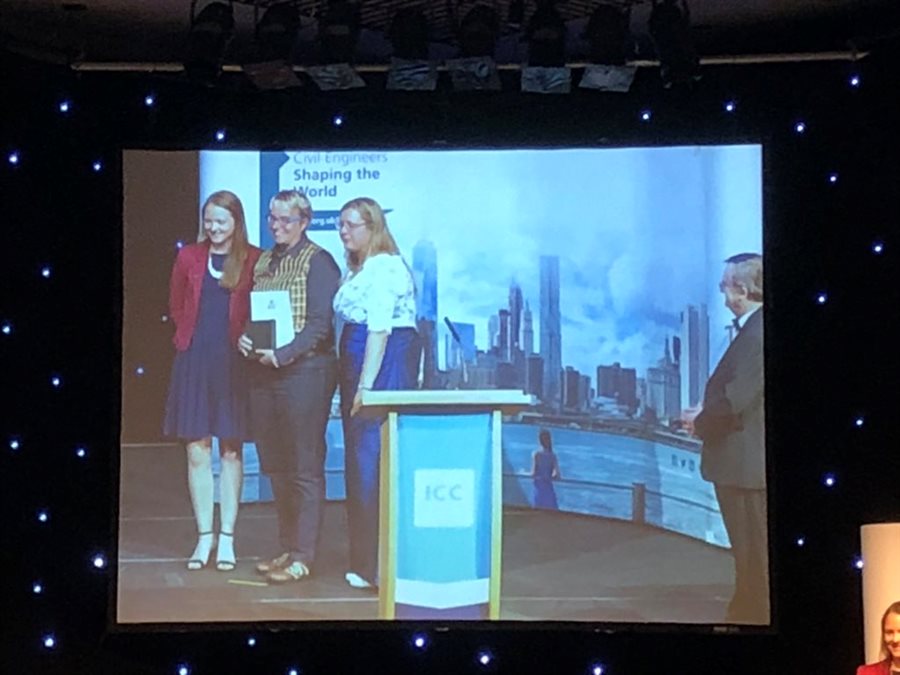 On Wednesday 9 May, Nicole Metje, Professor of Infrastructure Monitoring at the University of Birmingham, picked up the Overall Winner and Studies & Research Award at the Institution of Civil Engineers (ICE) West Midlands Awards 2018 held at a dinner gala at the ICC in Birmingham attended by over 270 guests.
Professor Metje picked up the awards for FINDIT - "Finding Infrastructure with Non- Destructive Testing". FINDIT is a collaborative project between RSK, Geomatrix, BT and the University of Birmingham.
The FINDIT project, which Professor David Chapman and Professor Nicole Metje lead on at the University, has combined years of collective experience and new research into a revolutionary subsurface mapping system, locating buried services more accurately and indicating their condition. Trialled with BT, the outcomes can be applied to other services. Birmingham researchers Dan Roberts and Simina Rebegea also played a crucial role in the project.
The judges described the FINDIT project as "really exciting" and a "well-presented study". In awarding FINDIT their overall winner, they recognised "its potential impact on the civil engineering industry looking forward".
Reflecting on her FINDIT's success, Professor Metje said: "We were delighted to win both the Overall Award as well as the Studies & Research Award 2018 for FINDIT. It clearly shows the impact the project has made. Winning these awards demonstrates the high regard the civil engineering community has for our work and the appreciation of the difference this will make to all of us to provide high speed broadband to our homes."
Professor Metje leads the Power and Infrastructure Research Group within the School of Engineering, and is the Deputy Director for Sensors at the UKCRIC National Buried Infrastructure Facility (NBIF) at Birmingham. NBIF is a 'one of its kind' facility for research, education and training in buried infrastructure-ground interaction, soil stabilisation and improvement, geophysical sensing, pipeline detection and condition assessment, tunnelling and trenchless technologies, to name but a few.
Talented young engineers and students were also celebrated at the event with the Young Achiever Award, the Emerging Engineer Award and Technicians' Award. Mark Hipwell, a University of Birmingham School of Engineering graduate, won the Young Achiever Award.
The event organisers received a total 29 project submissions from across the West Midlands. Each submission was judged by a panel of charted engineers. There were 11 category winners and six highly commended projects.
Yvonne Aust, ICE West Midlands Chairman 2017-18, in her Chair's message said: "As civil engineers we are perfectly placed to support society in meeting the needs of today and the future, through delivering efficient, innovative and effective solutions and focusing on delivering projects in a safe and sustainable manner. Our future is the next generation of engineers and embracing the diversity available within our exciting industry.
"All of these are projects which showcase the diverse and innovative talent within our industry. This exciting time for industry growth and it is important for us to acknowledge celebrate the achievements of our civil engineers and hopefully inspire the next generation to think about following an exciting and rewarding career."
A digital version of the awards supplement can be viewed by following the link below: