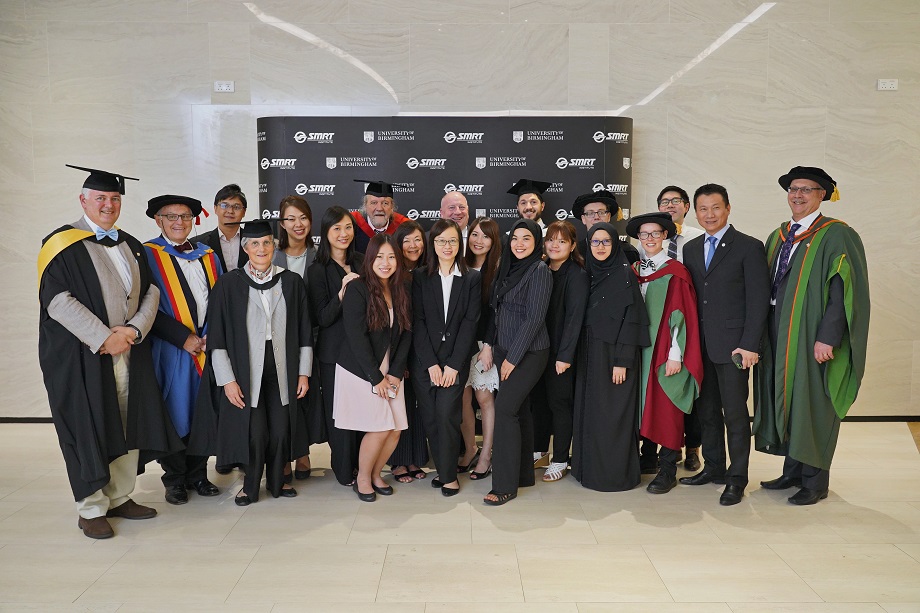 The first students have completed their studies as part of a unique railway education partnership between the University of Birmingham and Singapore's public transport services provider SMRT.
Birmingham Centre for Railway Research and Education (BCRRE) and SMRT students celebrated in an official ceremony to mark their completion of a Postgraduate Certificate in Urban Railway Engineering (Singapore).
The partnership is the first of its kind in the world – resulting from an agreement to form an educational partnership signed in 2016 between BCRRE and SMRT Institute Pte Ltd, a multi modal transport operator in Singapore.
The unique course provides students with perspectives from an institute of higher education for railway education as well as real-world operator experience.
Professor Jon Binner, Deputy Head of the College of Engineering and Physical Sciences at the University of Birmingham and Mr Neo Kian Hong, Group CEO for SMRT Corporation Ltd, hosted the awards presentation ceremony at NTU@one-north Singapore.
The ceremony was jointly organised by SMRT Institute and BCRRE and was attended by 43 students and their supervisors in celebration of their achievements. The ceremony was then followed by a drinks reception.
Professor Clive Roberts, Director of BCRRE said: "We are delighted to be congratulating to our SMRT-UoB graduates as the very first cohort of our Postgraduate Certificate in Urban Railway Engineering (Singapore). We are proud of their achievements and have every confidence that they will be equipped with skills to excel in railway engineering in the future.
"Our relationship with SMRT Corporation is an example of how we are working across the globe to enhance the future success of railways as a safe, fast, high capacity and environmentally and customer friendly transport mode."
Mr Neo Kian Hong, Group CEO, SMRT Corporation Ltd said: "SMRT and the University of Birmingham launched the programme in Urban Railway Engineering (Singapore) two years ago in October 2016. The partnership between a rail operator and a university is a first of its kind globally. SMRT's impetus for this partnership was to level up our engineering training, expedite the learning of our engineers by putting through an accredited programme to deepen their expertise and domain knowledge, and raise their technical capabilities.
"The intellectual framework provided by the University of Birmingham complemented the lessons learnt by SMRT based on our 30 years of experience in running heavy and light rail systems. The provision of a strong academic foundation for course participants, coupled with knowledge of how classroom concepts are applied in the real-world setting creates a powerful proposition to accelerate the development of our rapidly growing railway engineering workforce.
"The UoB programme gives our rail engineers a thorough appreciation of urban railway engineering and operations, together with Project Management, Asset Management and modules specific to their work specialisation. The immediate relevance and application was enriched with the contribution of Birmingham faculty members, its individual lecturers and SMRT doyens."
The University of Birmingham is ranked amongst the world's top 100 institutions, with its work bringing people from across the world to Birmingham, including researchers and teachers and more than 5,000 international students from over 150 countries.
The Birmingham Centre for Railway Research and Education (BCRRE) at the University of Birmingham is the largest university- based centre for railway research and education in Europe. With more than 145 researchers and staff it is developing world-leading new technologies and products for trains, railway systems and infrastructure alongside its renowned global higher education programmes. These two focal points of world-class education and research in all aspects of rail technology will deliver more reliable and efficient railway systems across the UK and beyond.
SMRT Corporation Ltd (SMRT) is a public transport services provider. Its primary business is to manage and operate train services on the North-South Line, East-West Line, the Circle Line, the Thomson East-Coast Line (operational in 2019) and the Bukit Panjang Light Rail Transit. This is complemented by bus, taxi and private hire vehicle services. Its core values are Integrity, Service and Excellence - committing SMRT to providing safe, reliable and comfortable service for its commuters.