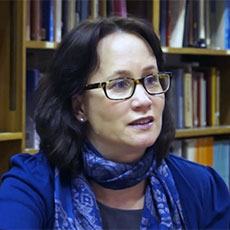 Today, 20 July 2018, the Institute of Physics (IOP) announced that Nicola Wilkins, Professor of Physics at the University of Birmingham, is to receive the IOP Phillips Award for distinguished service to the Institute.
Professor Wilkin will be recognised for her dedicated time and effort in championing the work of the IOP nationally and internationally, and as an ambassador for equality throughout the physics community.
Her work for the Institute has included instigating the IOP's Childcare Survey in 2010, which resulted in the establishment of the Institute's Carers' Fund to support members with caring commitments to attend events and conferences, and playing the leading role in delivering the International Conference on Women in Physics at the University of Birmingham in July 2017, which was co-sponsored by the IOP. She chaired the Local Organising Committee and raised over £100k in sponsorship for the conference – including supporting the attendance of 49 women physicists from developing countries.
Professor Wilkin, who currently serves as Director of Education for the College of Engineering & Physical Sciences at the University of Birmingham Birmingham, provides the strategic leadership for the College's education delivery as it prepares to deliver programmes in Dubai, and on the dual degree undergraduate Birmingham-Jinan programmes.
She served on the IOP's Council (2009–13) and her substantial contributions to the IOP have included being at various times honorary secretary for the Women in Physics Group, the Higher Education Group and the Quantum Optics, Quantum Information and Quantum Control Group, vice chair of the Mathematical Physics Group and chair of the Superconductivity Group. She has also been a member of the Group Co-ordination Committee and the Education Committee and is currently a member of our Juno Assessment Panel.
Her work for equality in the wider physics community has included stewarding the School of Physics and Astronomy at the University of Birmingham in achieving equality awards – Juno Champion and Athena SWAN Silver – and being academic mentor for the launch of the first Out in Science, Technology, Engineering and Maths (oSTEM) in England.
The IOP also chose to recognise Professor Stuart Palmer with a Phillips Award. He served as Honorary Secretary from 2009 to 2017 and during an interregnum for the post of Chief Executive Officer (CEO) in 2011, before Professor Paul Hardaker was appointed to the role, he was in effect running the Institute as interim CEO.
Professor Palmer and Professor Wilkin are each to be presented with a Phillips Award at the IOP's Awards Dinner in London on 20 November.
The Phillips Award, which was established in 2011, is given annually for innovative ideas or activities that have made a major contribution to the Institute's objectives; a leading role in one of the IOP's groups or branches or in its formal governance through its Council, boards or committees; or a significant contribution to the external influence of the IOP.
For more information about the IOP Phillips Awards, please, follow the link below:
IOP - Phillips Awards for service to the IOP go to Stuart Palmer and Nicola Wilkin