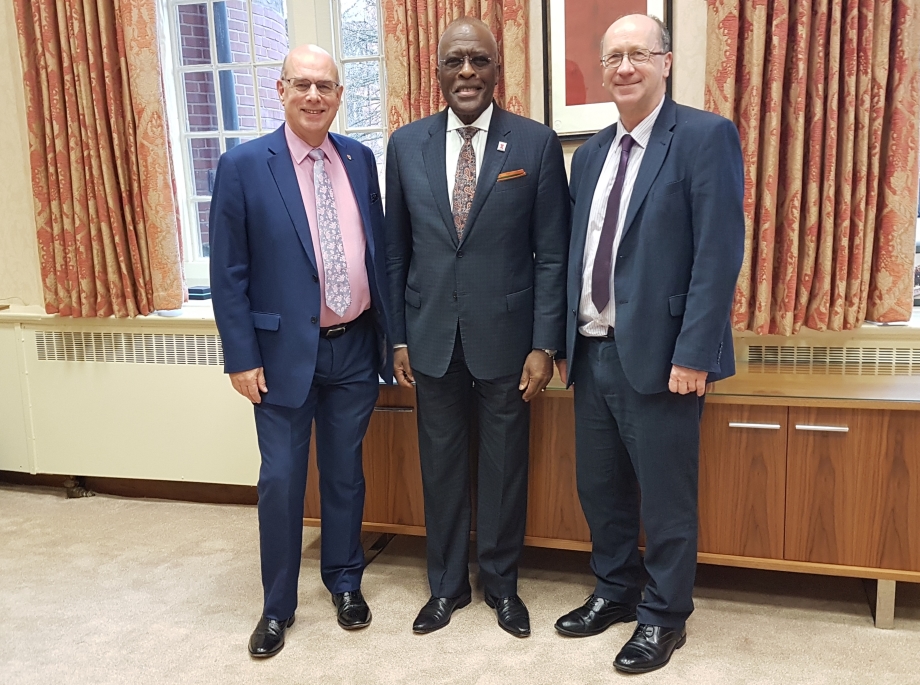 Senior leaders from the University of Illinois at Urbana-Champaign visited the University of Birmingham to mark the success of the BRIDGE programme – a strategic partnership that has supported transatlantic collaboration in multiple research areas from the humanities to engineering sciences.
Led by Chancellor Robert Jones, the US delegation met Birmingham experts as they discussed how the partnership might grow in the future, particularly in areas such as Water Sciences, Health Data Research and Medical Technologies.
They were welcomed by top researchers from Birmingham's College of Medical and Dental Sciences, and identified key future areas for collaboration linked to the new Medical College at Urbana Champaign, which has recently launched a novel medical course targeted at Engineers.
Professor Liam Grover, Director of Birmingham's new Healthcare Technology Institute showcased cutting-edge research in biomedical technologies, whilst Head of College Professor David Adams explained the University's role in improving patient outcomes as part of Birmingham Health Partnership.
University of Birmingham Vice-Chancellor Professor Sir David Eastwood welcomed the delegation and commented: "The partnership between Birmingham and Urbana-Champaign represents all that is best in two great universities working together. It is built on more than 60 research collaborations between faculty colleagues.
"We are able to innovate within this partnership and perhaps the best example of innovation is the BRIDGE Fellowships – giving a unique opportunity to early career academics to build international networks that will allow their careers to flourish."
The Birmingham-Illinois BRIDGE Fellowship programme has enabled the two universities to jointly recruit high-potential, researchers at the start of their academic careers and to contribute to the research and academic excellence of both institutions in five key areas:
Aging and Cognition
Brain Trauma
Cultural Heritage, Tourism and Economic Development
Diversity, Race and Education
Population Dynamics
The three-year BRIDGE Fellowship began in September 2016 with the first and third years of the Fellowship spent at Birmingham and the middle year at Illinois. Fellows spend the time conducting high-quality research before assuming an academic lecturer post at Birmingham.
Professor Tim Softley, University of Birmingham Pro-Vice-Chancellor for Research and Knowledge Transfer said: "In establishing the unique BRIDGE Fellowships, we are developing research collaborations that will both produce outstanding results and help to address the global challenges of our time.
"These are researchers with the potential to reach the top of their field, as well as enhancing both universities' existing academic strengths and contributing to the growing culture of collaboration and interdisciplinary research that exists at both institutions."
The visitors from Illinois met BRIDGE fellows and other Birmingham researchers engaged in collaborations with Illinois, and discovered more about their research programmes, which include areas such as:
The biology of suspended animation: how can we unlock the secrets to long-life?
How can we untangle heritage and challenge people's preconceptions?
Using nanoparticles to make stronger concrete for the world's railways
How can authoritarian governments in Africa be stronger than democracies?
Developing effective biofuels that can replace oil and gas.
How can we use biomarkers within the human body to detect signs of brain injury?
The impact on crops and forests of increasing global carbon dioxide levels.
The US delegation also visited the University's innovative new Collaborative Teaching Laboratory and the UK Quantum Technology Hub for Sensors and Metrology, as well as touring the Queen Elizabeth Hospital Birmingham.
Chancellor Robert Jones said: "The BRIDGE Fellowship Program is an exceptional example of how two institutions can work together to provide the transformative learning experiences that are essential in higher education.
"When we foster opportunities for our faculty and scholars to engage collaboratively with diverse experiences and viewpoints, it not only benefits their careers and research, but also creates truly comprehensive and diverse learning environments on our campuses."
The two universities signed a strategic agreement, known as the BRIDGE (BiRmingham-Illinois Partnership for Discovery, EnGagement and Education) Alliance, in March 2014. This builds on a four-year partnership and agreement to invest resources in strengthening research and teaching links. It enhances the city of Birmingham's sister city relationship with Chicago, Illinois, of more than 20 years. The agreement was renewed for a further 5 years in April 2018.
The University of Birmingham is ranked amongst the world's top 100 institutions, its work brings people from across the world to Birmingham, including researchers and teachers and more than 6,500 international students from over 150 countries.
The University of Birmingham is ranked amongst the world's top 100 institutions, its work brings people from across the world to Birmingham, including researchers and teachers and more than 6,500 international students from over 150 countries.
The University of Illinois at Urbana-Champaign ranks consistently among the top 50 higher education institutions world-wide, and is currently ranked #4 in the area of Engineering/Technology and Computer Sciences in the 2015 Academic Ranking of World Universities (ARWU). Many of the technologies that enabled the modern electronic era were developed at the U of I, and the university has lead the nation in NSF R&D awards for the last five years running. Illinois at is currently home to more than 10,000 international students and more than 2,000 international faculty and visiting scholars.
The programme's areas of research have been chosen because they are of common interest to the University of Birmingham and the University of Illinois at Urbana-Champaign, but also have a global significance.