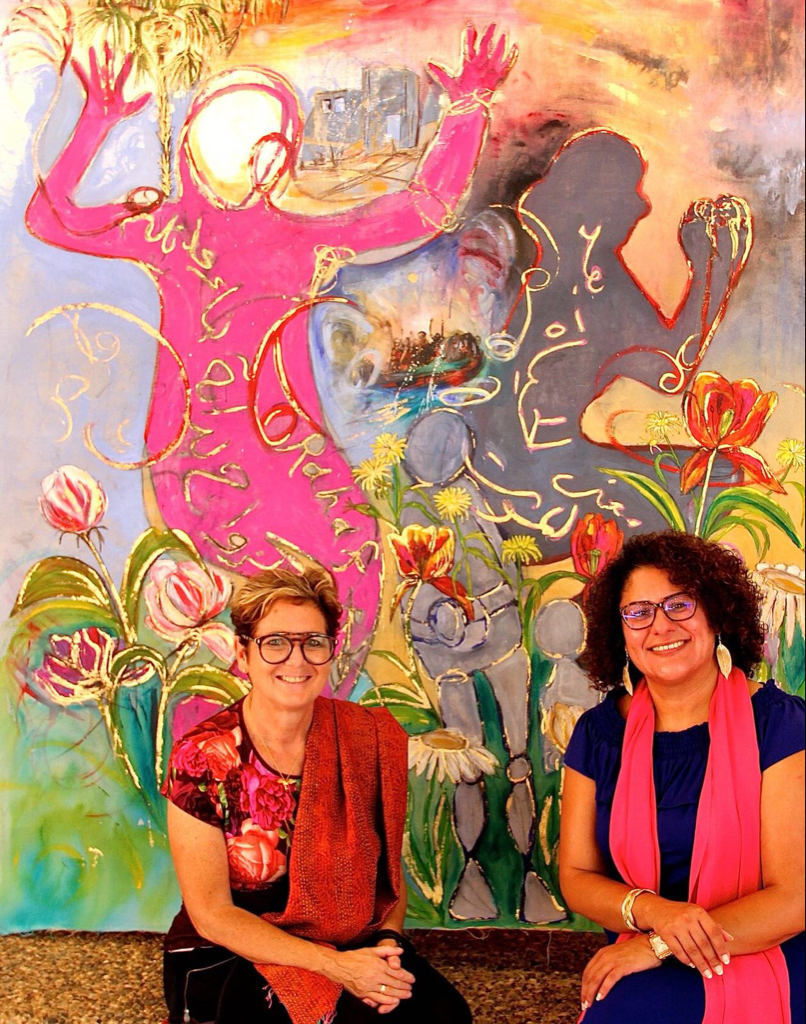 Dr Yafa Shanneik's research on Iraqi and Syrian refugee women inspired the artist Rachel Gadsden to develop and produce a live performance together with the composer Freddie Meyers and Syrian oud player Rihab Azar at the Misk Art Festival.
The performance presented, through live art and music composition, the physical and psychological challenges that individuals endure during their refugee journey. Through the expressive tools of charcoal, paint, sound and physical action, the visceral sensations endured by so many refugees undertaking perilous journeys were artistically captured and presented. The performance took place at the Misk Art Festival Riyadh, Saudi Arabia (30 October - 3 November 2018); other live-performances and exhibitions have also taken place in Jordan and the UK.
Rachel Gadsden's and Freddie Meyers's performance piece, called 'Ships of the Desert', was based on and inspired by Yafa's British Academy-funded project and collaboration with Rachel, which included fieldwork and workshops in Germany, Jordan and UK. The performance was presented on five consecutive nights as part of the Misk Art Festival 2018 in Riyadh, Saudi Arabia to a daily audience of 2000-5000.
Yafa's project examines how Muslim marriage practices assist Syrian and Iraqi refugee women in negotiating their identities and senses of belonging through shaping social relations, challenging religious boundaries and facilitating community belonging and integration within their new diasporas in Germany, the UK and Jordan. Yafa conducted interviews with 144 Syrian and Iraqi refugee women in Germany, the UK and Jordan. Rachel led eight art workshops in Germany, the UK and Jordan with these refugee women, using the body mapping technique - an artistic tool for creating life-sized images that traces the contours of the individual's body. This research technique was used in this project to investigate the women's process of displacement, loss, war and instability marking, through handprints and personal narratives, the physical and psychological impact their displacement and marriage and divorce experiences had on them. Through body mapping techniques women were able to counter gender-based narratives of fragility and vulnerability and develop narratives of strength, courage and empowerment to overcome societal patriarchal control, secular as well as religious legal limitations and the social stigma and stereotypes posed on them more generally. The artworks created in these workshops were showcased in the exhibition.
For further information on the project, please contact Dr Yafa Shanneik: y.shanneik@bham.ac.uk.