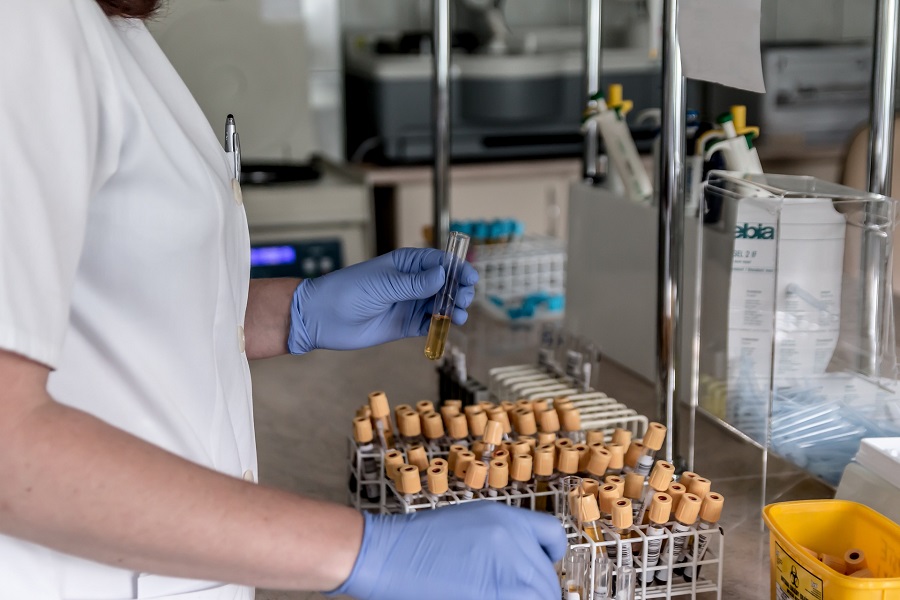 The University of Birmingham will play a leading role in a new £2.3 million clinical trial aimed at improving treatment to prevent potentially deadly bleeding in patients with liver cirrhosis.
The CALIBRE (Carvedilol versus variceal band ligation in primary prevention of variceal bleeding in liver cirrhosis) trial, is understood to be the largest of its kind, and has been funded by the National Institute of Health Research (NIHR).
Currently, liver disease is the fifth biggest killer in the UK and deaths are amongst relatively young patients. A complication of diseases of the liver is internal bleeding which, if unstoppable, can be deadly or can lead to prolonged intensive care treatment.
Trial Chief Investigator Dr Dhiraj Tripathi, a consultant liver physician at University Hospitals Birmingham NHS Foundation Trust and Honorary Reader at the University of Birmingham, said: "CALIBRE has the potential to be the largest ever clinical trial of its kind in the history of hepatology in the UK.
"The trial is to be rolled out nationally and all hospitals with gastroenterology and hepatology services, as well as research facilities, are eligible to participate.
"The results could lead to a major shift in the management of patients with liver cirrhosis and varices, with significant implications for the NHS."
The trial will be co-ordinated by Birmingham Clinical Trials Unit at the University of Birmingham, under the leadership of its director Professor Peter Brocklehurst.
Professor Brocklehurst said: "This is a large trial which needs to recruit over 2,600 patients, which will make it the largest trial carried out in the UK involving patients with liver disease.
"There is fantastic support for this trial from liver specialists throughout the UK and we are very optimistic that it will help us to find an answer to this really important research question in about six years' time."
The trial will compare two different approaches to preventing potentially deadly bleeding from enlarged internal blood vessels (varices) in patients with liver cirrhosis. One treatment involves administering a drug and the other is an endoscopic treatment to the areas likely to bleed.
Both treatments are currently offered to patients, but a large high quality trial to assess which has the best result has not been tried before.
The trial is an example of research being carried out by Birmingham Health Partners - a strategic alliance between the University of Birmingham, University Hospitals Birmingham NHS Foundation Trust and Birmingham Women's and Children's NHS Foundation Trust. BHP's mission is to harness research strengths between the University and NHS to deliver better treatments and care to patients. Together, they deliver research that matters.
Dr Tripathi also acknowledged important contributions from expert co-applicants in the hepatological field at the University Hospitals Birmingham (Dr James Ferguson), University of Edinburgh (Professor Peter Hayes), University of Leeds (Dr Ian Rowe) and the Royal Liverpool Hospital (Dr Paul Richardson). There has also been considerable patient and public involvement and support from the British Society of Gastroenterology (BSG) and British Association for the study of the Liver (BASL).
For further information, contact Emma McKinney, Communications Manager (Health Sciences), University of Birmingham, tel: +44 (0) 121 414 6681. For out of hours enquiries contact the press office on +44 (0) 7789 921 165.
The University of Birmingham is ranked amongst the world's top 100 institutions. Its work brings people from across the world to Birmingham, including researchers, teachers and more than 5,000 international students from over 150 countries.
University Hospitals Birmingham NHS Foundation Trust runs the Queen Elizabeth Hospital Birmingham (QEHB) and the original Queen Elizabeth Hospital (QEH) and hosts the Institute of Translational Medicine (ITM). The Trust has approximately 1,400 beds, 32 theatres and a 100-bedded critical care unit - the largest in Europe. QEHB is a Major Trauma Centre treating the most severely injured casualties from across the region. The hospitals are a regional centre for trauma, burns, plastics, neurosciences and cancer and in 2014 became a lead genomics centre as part of the NHS 100,000 genomes project. UHB has the largest solid organ transplantation programme in Europe. In 2016/17, UHB cared for over 1 million patients and currently employs over 9,500 members of staff. UHB is a Foundation Trust and has over 23,000 members.
Birmingham Health Partners (BHP) is a strategic alliance between the University of Birmingham, University Hospitals Birmingham NHS Foundation Trust and Birmingham Women's and Children's NHS Foundation Trust. BHP's mission is to harness research strengths between the University and NHS to deliver better treatments and care to patients. Together, they deliver research that matters.
The National Institute for Health Research (NIHR): improving the health and wealth of the nation through research. Established by the Department of Health, the NIHR:
funds high quality research to improve health
trains and supports health researchers
provides world-class research facilities
works with the life sciences industry and charities to benefit all
involves patients and the public at every step
For further information, visit the NIHR website
Title: CALIBRE (Carvedilol versus variceal band ligation in primary prevention of variceal bleeding in liver cirrhosis)
Funding body: NIHR HTA Programme
Award amount: £2.3m
Chief investigator: Dr Dhiraj Tripathi, Consultant Hepatologist at University Hospitals Birmingham and Honorary Reader for the University of Birmingham
Co-applicants in the trial are:
University Hospitals Birmingham: Dr James Ferguson
University of Birmingham: Prof Peter Brocklehurst (Director of Birmingham Clinical Trials Unit), Ms Gemma Slinn, Dr Margaret Grant, Dr Kelly Handley, Dr Janathan Mathers, Dr Susan Jowett.
University of Edinburgh: Professor Peter Hayes
University of Leeds: Dr Ian Rowe
Royal Liverpool Hospital: Dr Paul Richardson
Patient representative: Mr Peter Devine