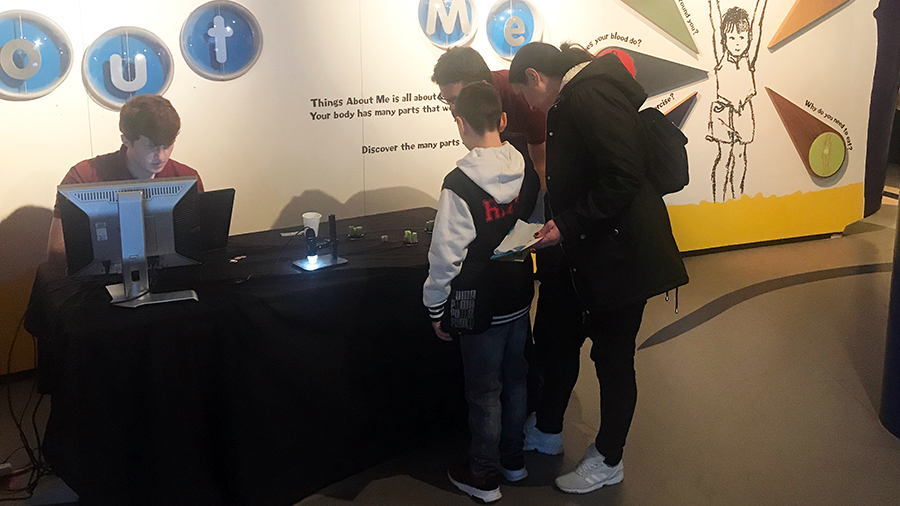 Last week, students from the EPSRC Centre for Doctoral Training in Physical Sciences for Health at the University of Birmingham volunteered at the Thinktank Birmingham science museum over half term to spark children's interest in science and the world around them.
Over the course of two days at Thinktank, students conducted a range of workshops over two days, giving young children and parents the chance to learn about the uses and properties of different materials and instruments used in the world of chemistry with hands on experiments. The workshops were designed to spark the children's interest in science and the world around them. For the students, the workshops was a chance for them to give back to the community whilst gaining valuable experience and confidence in communicating with the public.
In total, the students delivered seven different science experiments. In one experiment, children got to test the density of different liquids by creating concoctions of various substances, including washing up liquid, oil and dyed water. The students invited the children to pour the liquids into a tube and observe how some substances sunk to the bottom of the tube while other, less dense substances, remained at the top.
In another experiment, children were given a set of pictures of everyday and not so everyday items, from an individual cell platelets all the way up to a house, and asked to place the objects in order of size. This activity provided an opportunity for children (and parents) to put their knowledge to the test, with surprising results.
The students also demonstrated an unusual use for a laser pointer, using it to make the invisible microbes found in canal water visible. A student directed the laser pointer's light on a water droplet. At this point, a magnified version of the water droplet was projected onto the wall, revealing the microbes which exist in nature. Children learned about the importance of the source of water and avoiding drinking water which could make them unwell.
Katie Fegan, a first year student, said: 'What I enjoyed most about my day at Thinktank was seeing how excited the kids were to participate in experiments, as it's so important for them to actively engage with science at a young age.
'I think it's great that the CDT is allowing us to gain transferrable skills outside of the laboratory setting and communicate science on a more general level.'
Another first year student, Laimdota Zizmare, said: 'This experience made me think of ways explaining complicated concepts in simple, reasonable form which is a valuable skill to have when presenting my own future research.'
The EPSRC Centre for Doctoral Training in Physical Sciences for Health focuses on research at the interface between chemical, physical, biomedical, engineering and computer science.The programme will train a new generation of scientists as interdisciplinary researchers with a broad skill-base who will be at the forefront of developing physical science to contribute to breakthroughs in biomedical sciences and healthcare.