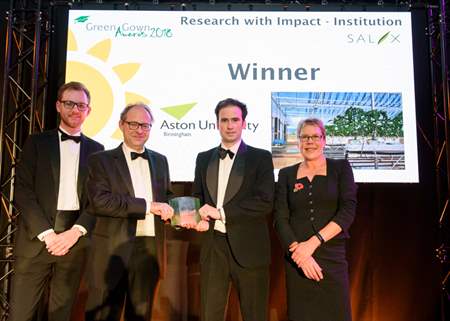 Revolutionary research into seawater greenhouses enables food to be grown sustainably in arid world regions!
Professor Philip Davies, a Professorial Research Fellow at the School of Engineering has been recognised for his research into seawater greenhouses that has enabled food to be grown sustainably in arid world regions. Using seawater for both cooling and irrigation, immune to drought and water shortages. As a result, seawater greenhouses are helping to secure food supplies in both developed and developing countries despite the challenges of climate change, resource scarcity and population expansion.
In recognition of this prestigious and impactful work, Professor Philip Davies, who conducted this research in his role as Head of Group and Reader in Mechanical Engineering and Design at Aston University, was recognised with the 'Research with Impact Award' at the Green Gown Awards Ceremony that was held on Thursday 8 November 2018.
Established in 2004, the Green Gown Awards recognises the exceptional sustainability initiatives being undertaken by universities and colleges. With sustainability moving up the agenda, the awards have become established as the most prestigious recognition of best practice within the further and higher education sector in Ireland and the UK. For the second year running, finalists mapped their entry against the United Nation's 17 Sustainable Development Goals (SDGs), the most popular being 'sustainable cities and communities', 'responsible consumption and production' and 'quality education'.
Professor Davies' work has led to the development of cooling and desalination technologies that have enabled the successful use of seawater greenhouses. Through the use of renewable energy, seawater greenhouses do not require fossil fuels or cause carbon emissions. The research used computer models, and data collected from both laboratory experiments and existing greenhouses, to understand and improve the technologies.
As a result of Professor Davies' collaborations with industrial and international partners, seawater greenhouses are now being used in both developing and developed countries around the world. This research is currently continued by Professor Davis and his team at the University of Birmingham's School of Engineering. Philip said, "Our success came from close collaborations with international and industrial partners; together we found a way to combine environmental benefits with social and economic ones, and simple designs are often the best!"
Find out more about Professor Philip Davies' research and the Green Gown Awards
Notes to Editors
The 14th edition of the prestigious Green Gown Awards Ceremony was celebrated on Thursday 8 November 2018. On the evening 87 finalist institutions gathered in 12 different categories. Representing over 1 million students, 172,000 staff and a combined annual turnover of £15 billion, these institutions are proving their value to the economy and society. Organised by the Environmental Association for Universities and Colleges (EAUC), the ceremony was held in the home of iconic locomotives and engineering brilliance, The National Railway Museum in York in conjunction with the University of York and York St John University. The event was hosted by Iain Patton, CEO of the EAUC, co-hosted the ceremony alongside Helen Browning OBE, CEO of the Soil Association.