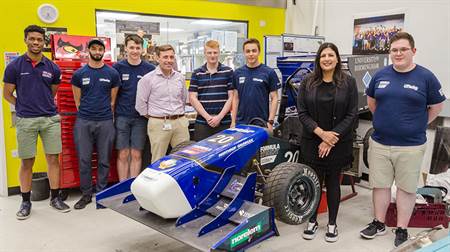 Earlier this month (7 June 2018), Preet Gill MP, Shadow Minister for International Development and MP for Edgbaston, visited the University of Birmingham to learn more about how its engineers are using their expertise to tackle global environmental challenges and provide high quality employment opportunities for graduates.
Dr Karl Dearn, Reader in Mechanical Engineering in the Department of Mechanical Engineering and Formula Student Facility Advisor, showed Ms Gill how the University is working with partners in the UK and India to develop sustainable 'Clean Cold' supply chains.
Ms Gill MP also met members of UBRacing, Birmingham's successful Formula Student racing team. Here, students from across the University have the chance to work together to build and race a high-performance prototype for a single-seat race car. The team picked up three awards at the Formula Student UK competition in 2017 UBRacing. Past members of the team have used the skills and experience they've developed to secure high-quality jobs in engineering.
Dr Karl Dearn, Reader in Mechanical Engineering in the Department of Mechanical Engineering and Formula Student Facility Advisor, said: "Through our global collaborations, we're using our engineering expertise to develop solutions to the big global challenges we face such as climate change and feeding a growing population.

UBRacing is an example of how students at Birmingham, whether they study engineering or another subject, benefit from our world-leading engineering and develop the skills and experience employers are looking for. Formula Student is a bench-mark for real-world engineering experience."

Effective cooling is essential to preserve food and medicine. The Cold Economy is the development of cohesive and integrated (technology agnostic) system-level strategies to mitigate demand and meet cooling needs sustainably within our climate change, natural resource and clean air targets, while supporting economy growth.
By harnessing new technologies such as the Dearman liquid nitrogen powered engine, Birmingham is helping to reduce food wastage, and support increased production whilst also reducing carbon emissions and pollution associated with traditional diesel-powered refrigeration systems.
UBRacing is the University of Birmingham's Formula Student team. This hugely successful project enables students to gain hands on experience of a real life-engineering task. Unlike many other university teams, Birmingham encourages students from all years and all disciplines to take part. This progression through the team is vital to becoming a well-rounded engineer. Take a look at UBRacing's Facebook group or follow @UBRacing on Twitter to find out more.