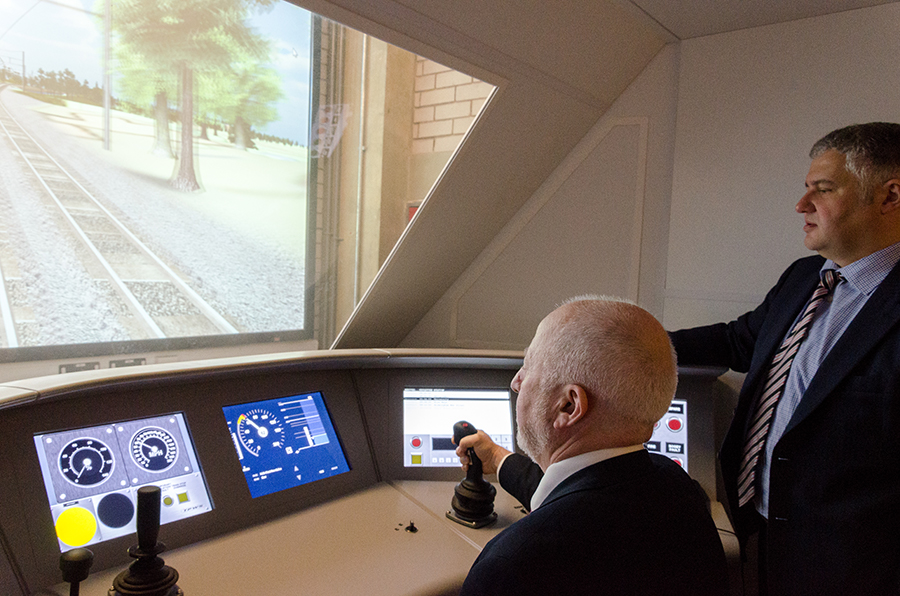 Andy McDonald MP, Shadow Secretary of State for Transport, visited the Birmingham Centre for Railway Research and Education (BCRRE) yesterday (14 June) to learn more about how the centre is helping to improve railway systems around the world and to discuss how investment in rail can help support shared economic prosperity throughout the UK.
Mr McDonald MP discussed how long-term strategic investment in rail can help re-balance the economy and ensure economic prosperity is shared throughout the UK. Professor Clive Roberts, Director of BCRRE, showed how researchers at Birmingham are contributing to this agenda in various ways, including through the development of hydrogen-powered trains, which could extend the range of electric trains and help phase-out polluting diesel engines.
Mr Alex Burrows, Managing Director of BCRRE, introduced the UK Rail Research and Innovation Network (UKRRIN) and BCRRE's contribution to the digital railway element of the Government's sector deal for the rail industry.Professor Roberts highlighted the centre's world-leading computer modelling of complex rail systems. By evaluating operating changes virtually in advance of timetable changes and maintenance works, train operators can minimise disruption to passengers and boost rail capacity.
Mr McDonald MP also got the chance to test out the centre's train driving simulator, which is important not only for safety on the railways but also provides vital feedback for planners on how individual variations in driving styles affect the overall performance of the railways.
Professor Roberts, Director of BCRRE, said: "It was a pleasure to welcome Mr McDonald MP to the university, for the opportunity to showcase the breadth and depth of BCRRE research and the many ways in which the rail industry, all around the world, can benefit from UK-based innovation."
Mr McDonald MP, Shadow Secretary of State for Transport, said: "I was delighted to visit the Birmingham Centre for Railway Research and Education this week and see at first hand the impressive partnership between industry and academia. It was a reminder of the real expertise we have across the supply side of the rail industry in the UK which we export around the world. We need to ensure there is more investment in research and development to ensure the UK builds on this success."
The BCRRE is the largest university-based centre for railway research and education in Europe, with more than 140 researchers and staff developing world-leading new technologies and products for trains, railway systems and infrastructure that will deliver a better, more reliable and efficient railway to the UK.