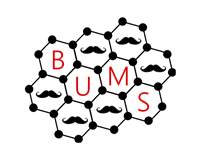 BUMS have had a cracking start to the year! Our successful family scheme kick-started the year with the first event in 'BUMS Family Cup' where each family competed in various events to showcase their skills!
The amazing variety of socials we had on offer this term had something to offer to everyone with events like the family laser tag, BUMS charity quiz, BUMS vs NucSoc and BUMS Does Bowling (kindly funded by the Student Culture Fund). Not to mention the BUMS Christmas Meal to celebrate our year so far, and the Christmas Charity Cake sale in aid of Crisis, a national charity aimed at helping homeless people!
BUMS entered a Movember team this year known as the "Material Mos", which raised a total of £1,360 for a great charity focusing on the biggest health issues faced by men and spreading awareness! This total was helped by £243.15 raised at the BUMS charity quiz night.
The rebrand of the society sports teams, BUMSport, has been hugely successful this term. Our football, netball and basketball mixed teams had fortnightly training sessions which led to some fantastic performances in the weekly campus league games. Branded kit has also been purchased for all three sports so that the BUMS flag is flown high. The 'BUMS A' football team currently sits mid-table with five wins out of 10 in what is proving to be a very competitive league. The 'BUMS Social' football team have had fantastic turnout but have come up against tough opponents and sit near the bottom of their league. Netball has had some huge results; most notably a 14-0 win against PPS, and are in the fourth place just three points from the top. Basketball recorded a historic result in the first game of the league, our first ever basketball campus league victory! The team then went onto get back-to-back wins and finished the first round of the campus league mid-table.
On top of all this, BUMS weekly social badminton took off this term, courtesy of our Sports Rep Will Leney. Turnout has been amazing, booking 3 courts was not enough most weeks.
Two new additions to BUMS have been the 'MEME of the Month' and 'Cooking with Committee' which have created a great buzz in the society.
The Metallurgy and Materials careers fair hosted by BUMS was a big success, with a total of 16 companies and lots of students having a look around and networking. We also hosted a student placement talk at the beginning of term where students each presented about their summer placement opportunity; this received a great turnout of around 20 students.
The Society looks forward to the second term where we hope to continue our work even more successfully!