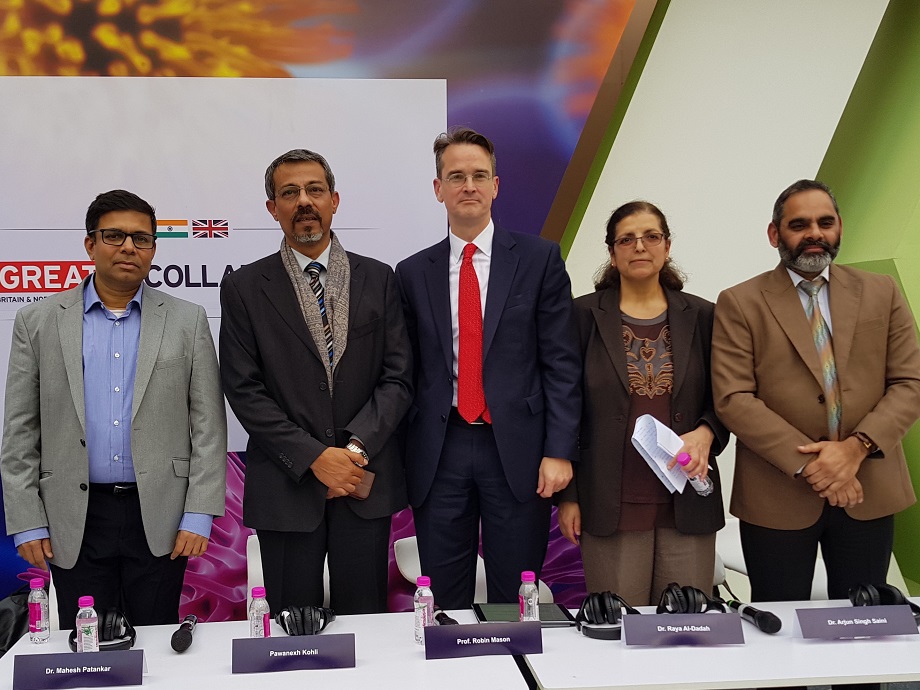 Experts from the University of Birmingham led discussions on broadening the use of sustainable cooling technology in India and supporting the Indian Government's drive to meet key development targets.
Effective refrigeration is essential to preserve food and medicine. It underpins industry and economic growth, is key to sustainable urbanisation and provides a ladder for farmers out of rural poverty. It makes much of the world bearable - or even safe - to live in.
The University showcased its partnership with the State Government of Haryana to develop centres of excellence for clean cold chains that will help to map a blueprint and delivery plan for sustainable cooling across the north Indian state.
Technology is at the forefront of partnership between India and the UK - highlighted by the announcement of a new India-UK Tech Partnership by Prime Ministers Narendra Modi and Theresa May in April this year.
Pro-Vice-Chancellor (International) Professor Robin Mason chaired a panel discussion on clean cooling at the recent India-UK FutureTech Festival. He was joined by the University's new honorary professor of 'Post-harvest logistics' Pawanexh Kohli and Dr Raya Al-Dadah, from the Birmingham Energy Institute (BEI).
The panel also featured Dr Mahesh Patankar, from Alliance for an Energy Efficient Economy, and Dr Arjun Singh Saini, from Haryana State Horticulture Department.
Professor Mason commented: "We were delighted to contribute to the India-UK FutureTech Festival. The University of Birmingham's clean cold collaboration with the Haryana government is a great example of the UK-India Tech Partnership in action.
"Prime Minister Narendra Modi has set India the challenge of doubling farmers' income by 2022. The cold chain is key to boosting India's food security and reducing environmental impact and we have been working extensively in this field with our Indian partners.
"Birmingham is a civic university with a global outlook and we are looking to grow our contribution to Indian society; as our researchers forge links with their counterparts, we hope to change millions of lives for the better."
The India-UK Future Tech Festival was the British High Commission's flagship event of 2018 in India and took place in New Delhi. It brought together business, policy makers, academics and entrepreneurs to deliver a high impact festival of thought-leadership in technology.
Designed as a catalyst for India-UK collaboration, the event provided opportunities to make and strengthen connections across sectors such as AI/Data, Future Healthcare, Future Mobility, Fintech and Cyber Security.
Delegates at the event also explore how the India-UK Tech Partnership could grow and how key strands including the UK-India Tech Hub and Cluster Partnerships will deliver the Prime Ministers' vision.
The University recently welcomed environmentalists and industrialists to a major event in New Delhi, where they explored ways of advancing the use of clean cold technology to meet in a sustainable way the rising demand for cooling.
In 2018, the University of Birmingham created and hosted the world first Clean Cold Congress, at which Professor Kohli was a keynote speaker.
Presently the University is working towards establishing research centres in India, called living laboratories - developed with partner universities with the support of the State Government of Haryana.
The University of Birmingham is ranked amongst the world's top 100 institutions, its work brings people from across the world to Birmingham, including researchers and teachers and more than 6,500 international students from over 150 countries.
Professor Kholi is CEO of India's National Centre for Cold-chain Development (NCCD) and has played a key role in shaping policy and projects aimed at solving post-harvest food loss – particularly in developing refrigeration networks linking the farmers to market.
Dr Raya Al-Dadah is a Lecturer in Thermofluids at the University of Birmingham. She has researched and supervised research projects in the field of heat transfer and refrigeration and published over 30 papers in journals and at international conferences.