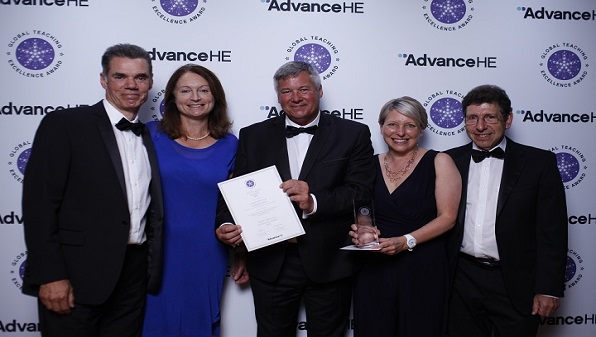 The University of Birmingham has won a Spotlight Award in the Global Teaching Excellence Award (GTEA) 2018 – recognising its 'exemplary vision for achieving teaching excellence across the whole institution'.
The award commends the University for its drive to give students a challenging and stimulating learning experience, whilst placing research at the heart of teaching. Birmingham was described as providing "an excellent example of how teaching excellence can be achieved in a large, comprehensive and multicultural higher education environment".
Run by Advance HE, GTEA is now in its second year and recognises outstanding institution-wide approaches to teaching. The award is open to all universities and higher education providers world-wide.
Making the award, judges noted that the University "shows outstanding vision for achieving excellence in teaching with clear KPIs, targets, process, and evidence. The institution provides impressive evidence regarding challenges that stretch students' learning experiences and embed research within the curricula."
Of the 17 finalists, five institutions – including Birmingham - were particularly commended by the international panel of judges.
Professor Kathleen Armour, Pro-Vice-Chancellor (Education) at the University of Birmingham, said: "The University of Birmingham is delighted to receive this award. To achieve teaching excellence we are ensuring that all of our staff have access to career-long professional development in learning and teaching.
"We are committed to sharing best practice across the University, engaging with, and learning from, good practice nationally and internationally. To this end we have set up our new Higher Education Futures institute (HEFi) to support staff in delivering effective and innovative teaching throughout their careers.
"The University has long recognised the importance of research-intensive teaching, independent study and peer-to-peer learning, which are central to our philosophy.
"Our graduates are among the most highly sought after in the world, which is testament to the quality of our teaching and extracurricular provision. Research-intensive universities such as Birmingham deliver an outstanding student experience in which excellent teaching is enhanced by world-class research and facilities. We put students at the heart of what we do and I am pleased that this has been recognised once again."