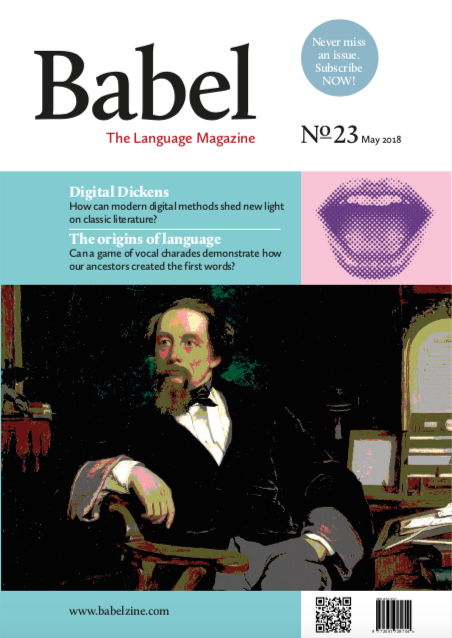 The CLiC web app, developed at the University of Birmingham in cooperation with the University of Nottingham, is featured in the May 2018 issue of Babel – The Language Magazine. Babel is a popular magazine that features articles from linguists written for language enthusiasts all over the world.
CLiC (Corpus Linguistics in Context) is a web app that makes it possible to look for words and phrases across one or more novels. At the moment, CLiC contains over 130 novels, mainly from the 19th century. In the Babel article, which is accompanied by a pull-out poster, the CLiC Dickens team introduce the functionality of the web app with examples of 'speech clusters'. These are repeated sequences of words that only occur in character speech, as the web app makes it possible to search through part of the texts (for example speech or narration). This contribution to the popular magazine was announced in a recent guest post by Babel editor Professor Dan McIntyre on the CLiC Dickens Blog.
Babel offer subscriptions - both print and digital!
The Babel Magazine is supporting a Digital Reading Competition by the CLiC Dickens project that will be launched in June. This competition invites students and teachers to submit their ideas for using the CLiC web app in the classroom. The best activities will be added to a new version of the CLiC Dickens Activity Book and will also be featured on the CLiC Dickens Blog. A flyer for the first announcement of the competition is also available as a PDF [428KB].
The Digital Reading Competition is your chance to create CLiC teaching activities. To see examples of how teachers use CLiC in the classroom, have a look at some of the guest posts on the CLiC Dickens Blog:
You can find further inspiration in the free CLiC Activity Book (Version 1). If you would like to meet the CLiC Dickens team in person you can join their seminar at this year's NATE conference in Birmingham. On the NATE seminar programme you will find the session labelled as "SS7" and titled "CLiC – digital skills for reading literature". The seminar will be taking place on Saturday 23 June, 10.35am.
Stay tuned for further details of the competition – including the submission format and prizes – to be announced on the CLiC Dickens Blog in June. In the meantime, the CLiC Dickens team are keen to hear your feedback on what types of prizes you'd be interested in and how you might incorporate the competition into your teaching practice next term. Feel free to get in touch via Twitter or Email.