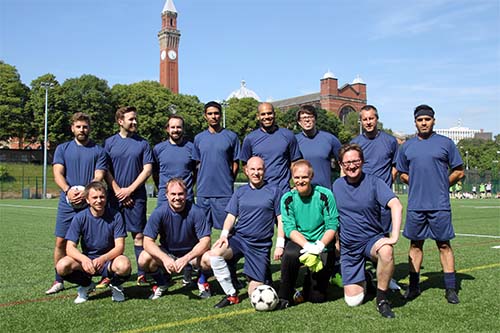 For the first time in many years the staff beat the students in the annual footballing clash of the titans.
The annual POLSIS undergraduates versus staff football match began under controversial circumstances as a bureaucratic blunder compressed an anticipated 90 minute game into a thrilling 60 minute affair last Wednesday, played out under the early evening West Midland sun.
The compact time-frame suited the tactical nous (not to say aging limbs) of the staff side ably led by Richard Shorten who from the outset dominated with a neat passing game which they kept up throughout. The rewards were ample. Very early on, the staff were ahead; not by one goal, but by two. The students looked as if they did not know what had hit them – literally so, as the staff ranks included a number of debut IT staff seldom to seen strolling the 'civilian' floors of the Muirhead Tower.
Briefly, an undergraduate team equalizer forced a stiffening of resolve. Yet without much delay the staff were soon off on the front foot again, fluid forward passing – combined with an utter defensive solidity – subjecting the undergraduates to a frightening and sustained period of pressure not to be relieved until, eventually, the final whistle afforded them much needed respite.
The match finished 4-1: Dan Maddock, former POLSIS administrator, slotted in a hat trick of goals; Marc Levasseur, long-serving head undergraduate administrator, scored the other – a stunning volley struck from a wide position just outside the penalty area, and whilst under significant pressure from the undergraduate left-back.
The match is bound to live on long in POLSIS folklore. Those present to witness events first hand included POLSIS photographer, Dave White. The evening is perhaps as scarcely likely to be forgotten as it is to be repeated.