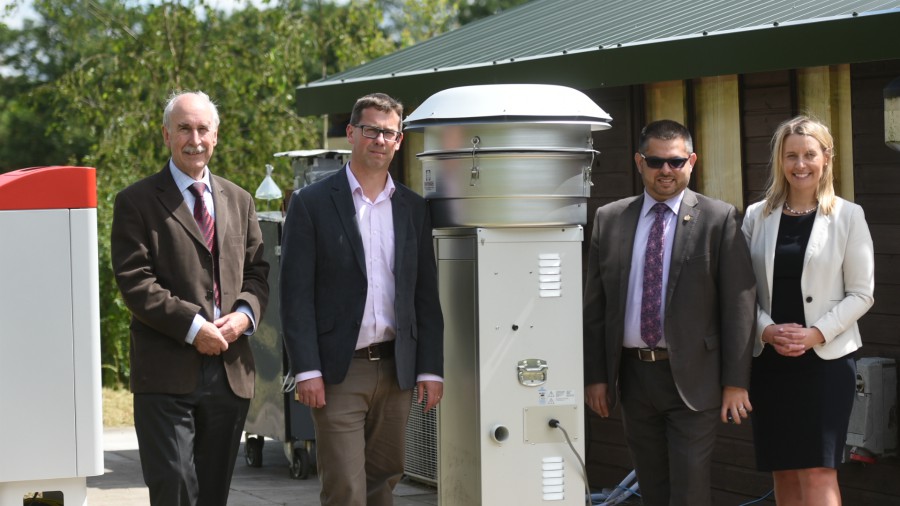 The University of Birmingham is launching an Air Quality Research Supersite on its campus on National Clean Air Day, 20 June 2019.
The Birmingham Air Quality Supersite will allow researchers to gather more detailed data on the content of harmful urban air pollution and where the gases and particles that pollute our air are coming from, complementing existing local authority monitoring.
Councillor Waseem Zaffar MBE, Birmingham City Council Cabinet Member for Transport & Environment, will join William Bloss, Professor of Atmospheric Science, to launch the new site.
Cllr Zaffar says: "Tackling air quality is top of the agenda in Birmingham. But to bring about change, we need a joined-up approach. The air quality supersites will enable us to get high quality information from across different cities – and that will help create a sustainable future for all of us."
"We are already seeing profound changes in emissions and air pollutants brought about through technology and the regulatory landscape – and this will increase in the coming years," says Professor Bloss. "We need to fully understand these changes to ensure that air quality policy has maximum benefit for the protection of human and environmental health."
The Supersite, along with similar sites in London and Manchester, are funded by the Natural Environment Research Council (NERC) and will deliver comprehensive, continuous and long-term measurements of urban air quality. The data gathered will build a picture of the changing UK pollution climate, and inform development of future air quality policies.
Air pollution in the West Midlands affects around 2.8 million people, reducing life expectancy by up to six months and costing the economy up to £860m per year. Air quality is therefore a key priority for local and regional government.
The supersite data will be used in the WM-Air, the West Midlands Air Quality Improvement Programme. This project, led by the University of Birmingham, applies world-leading science expertise in air pollution in support of air quality policy across the West Midlands.
West Midlands Mayor Andy Street is backing a number of measures to reduce congestion and improve air quality across the region. "We need to take urgent action to bring about a revolution in air quality," he says. "Initiatives like the Air Quality Supersites are delivering the vital research that we need to bring about that revolution, informing the policy changes that will improve air quality, public health, and help to tackle climate change."
All the data gathered by the supersites will be open access and, for most measurements, available to the public in real time via a supersite website.
For further information please contact Beck Lockwood, Press Office, University of Birmingham, tel 0121 414 2772.
The University of Birmingham is ranked amongst the world's top 100 institutions. Its work brings people from across the world to Birmingham, including researchers, teachers and more than 6,500 international students from over 150 countries.
NERC is the UK's main agency for funding and managing research, training and knowledge exchange in the environmental sciences. Our work covers the full range of atmospheric, Earth, biological, terrestrial and aquatic science, from the deep oceans to the upper atmosphere and from the poles to the equator. We coordinate some of the world's most exciting research projects, tackling major environmental issues such as climate change, environmental influences on human health, the genetic make-up of life on Earth, and much more. NERC is part of UK Research & Innovation, a non-departmental public body funded by a grant-in-aid from the UK government.