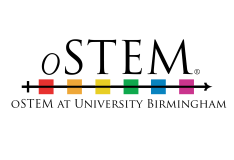 oSTEM (Out in Science, Technology, Engineering and Mathematics) has had an amazing start to the academic year with achievements and events across the University and wider STEM community.
In October we applied to the Alumni Impact Fund for our project 'STEM, LGBTQ & You', a conference exploring the experience of LGBTQIA+ experiences in STEM. We were thrilled to be awarded the funding we applied for and be the recipient of the double funding opportunity! We are extremely grateful for the generosity of the alumni for supporting our conference which we ran for the first time last year. 'STEM, LGBTQ & You' will take place on 26 February during LGBT History Month 2020. It will be host to eight speakers and a panel discussion with professionals from across STEM, including representation from academia, industry, BAME, and a range of identities within the LGBTQIA+ community.
We've also held a wide range of events throughout this semester. At each we are committed to providing a safe environment in which members can socialise and discuss issues faced within the STEM LGBTQIA+ community. Our weekly coffee socials provide a perfect opportunity for this and allow our members to briefly escape from the stress of University deadlines! During several of these socials we've run themed events for Halloween and oSTEM's 4th Birthday! We also held a quiz which was great fun and even prizes to be won!
As well as our safe spaces we also aim to create a sense of inclusion across the University by working with other societies. In November we collaborated with NucSoc and ChemSoc in running a night-out to Circo and Nightingales in the City Centre. This was a great opportunity to socialise and create links with other societies across the College. It also provided an environment for LGBTQIA+ students from other societies to be aware of oSTEM and attend one of our events without outing themselves.
We've also been involved with outreach activities with the College. In September we ran a workshop as part of a Girls in STEM day, encouraging girls from local schools to continue studying STEM subjects. Our workshop featured an infection-outbreak scenario within a hospital and was a fantastic day – we look forward to getting involved with more activities like this in the future.
This semester we also had the opportunity to send five oSTEM members to Detroit for the oSTEM Inc. Annual Conference. This was an incredible opportunity to attend workshops, talks, and discussions, gaining from the wealth of experiences from professionals across the international STEM community.
Furthermore, at the conference our Regional Coordinator and previous Chair, Avery Cunningham, received the oSTEM Global STEM Service Award. This recognised his continued commitment to equality and diversity, within STEM and the wider community. He was commended at an international level for his amazing work and dedication in creating an inclusive environment within the world of STEM – as a society we couldn't be prouder! Congratulations Avery!
For more details about oSTEM at the University of Birmingham and to keep up to date with our upcoming events check out our Facebook, Twitter and Instagram. Please message the Facebook page to be added to our private group, or become a member on the Guild website.
It's been an exciting and busy term for oSTEM and we can't wait to share all the events we have planned for the rest of the year!
Molly Service
Chair of oSTEM at University of Birmingham