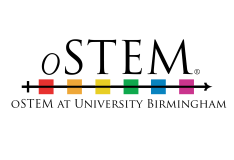 Huge congratulations to oSTEM Birmingham's Avery Cunningham on receiving the 2019 oSTEM Inc. Global STEM Service Award!
Presented at the international oSTEM Inc. Conference in November, this Award is presented to an active member, alumnus, chapter mentor, or organization leader of oSTEM who has demonstrated a strong dedication to oSTEM, LGBTQ people in STEM, and STEM education. They are an outstanding role model for the future of our community. They are accomplished in their academic or professional lives and they regularly advocate for the full inclusion of people of all marginalized identities. They are committed to and continually strive to understand the most effective methods for reaching equality for all people.
Avery's name is synonymous with oSTEM across the UK having once been described as the "jet-setting trailblazing leading light at the vanguard of the LGBTQ+ STEM community". Avery was one of only two people this year awarded Honorary Life Membership of the Guild of Students at the University of Birmingham in recognition of his achievements and commitment to representing the interests of LGBTQ+ students. Despite oSTEM Birmingham only being three years old, under Avery's successful leadership the chapter has won Society of the Year, the highest award given, beating out societies at the University who have over 135 years of history. He is also the creator and chair of the oSTEM Birmingham conference, one of the largest LGBTQ+ STEM conferences in the UK and winner of the Outstanding Event Award.
Avery has also taken the initiative to help start oSTEM chapters in the UK as one of our own oSTEM Regional Coordinators for the past year.
Please join us in congratulating Avery Cunningham for his tremendous achievements both here at the University of Birmingham and as part of oSTEM Inc.
To find out more about Avery's work and oSTEM at the University of Birmingham please visit www.birmingham.ac.uk/eps/ostem.