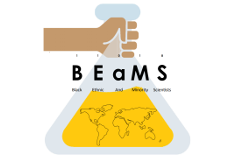 We are proud to say that this has been our best term yet! We've held various events ranging from career-related activities, outreach as well as socials. We've also collaborated with several other societies.
For our first event of the year we had the opportunity to work with Rachel Burgess, an outreach professional within the STEM field, enabling us to deliver a workshop at the College's Girls in STEM Day. As part of the day, and prior to our workshop, she organised an event encouraging young female students, from different schools, to study STEM subjects. Our workshop aimed to elaborate on the vast variety of STEM-related jobs and opportunities available. Moreover, we held a competition in which students raced to match the different career paths learned in the workshop to the fact files of women with different skill sets and the degrees. The women chosen in the fact files were racially and ethnically diverse which allowed us to highlight that a career in STEM is attainable to these students regardless of their race and gender. A massive thank you to Caterpillar for sponsoring this event.
Our biggest event during Autumn Term was Dinner with BEaMS III. To celebrate Black History Month we decided to hold another networking event, similar to the successful events held last year. We heard from inspirational guest speakers Daniel Omatsola-Morgan, Johnathon Choi and Pamela Akujobi who spoke to the attendees about their experiences in the workplace as a person of colour. Their invaluable advice has helped BEaMS continue to break stereotypes and prejudice in STEM. Furthermore, we added many elements aimed at celebrating Black History Month and ethnic diversity. Namely, we showcased our booklet filled with key STEM individuals in black history and we served traditional South African dishes. We look forward to holding a similar event in the spring term. We would also like to thank the EPS Student Experience Team for generously funding our welcome event.
We've also had many collaborations this year! BEaMS held a workshop with Careers Network aimed at improving psychometric test skills, scenario-based interview questions and the application process as a whole. We've also enjoyed collaborating with MathSoc and BEMA holding a movie night and watched the inspirational film Hidden Figures. We're excited to team up with them all again in the future!
We ended the term working with the EPS Student Experience Team where we were able to hear from two inspirational speakers Omran Al-Habbal and Mikayla Jones. Omran spoke about empowerment and resilience as he shared his journey as a Syrian refugee. It was extremely inspiring to hear how he dealt with all the obstacles he faced. We were then lucky enough to experience a workshop with Mikayla Jones focusing on students improving their adaptability in environments and the steps they need to take to model cultural intelligence.
From all of us at BEaMS we'd like to thank you for a great first semester! It has been terrific seeing students from different cultures embracing each other and learning about successful BAME leaders in STEM together. We look forward to seeing you all next term!
Find us on Instagram, Facebook, Twitter, and LinkedIn to get involved or work with us.
Mira Shukla
BEaMS President 2019/20