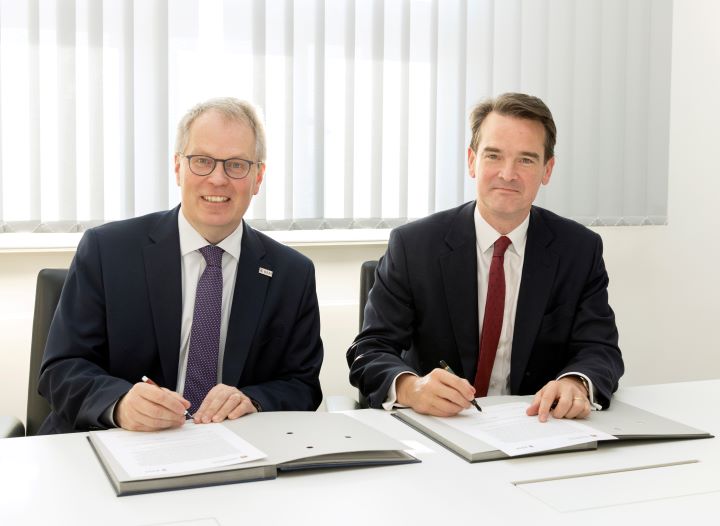 The University of Birmingham today extended an agreement with Germany's Federal Institute for Materials Research and Testing (Bundesanstalt für Materialforschung und –prüfung - BAM) that will see the partners create a joint research centre for Chemistry and Materials Science.
The Joint Centre will initially focus on research into materials characterization, catalytic chemistry and corrosion, but will later expand to cover a number of key research fields.
The partnership will also see experts at BAM and the University continue to collaborate in a number of other areas: Environmental Sciences, Energy, Additive Manufacturing, and Infrastructure - including resilience monitoring, buried resources and railways.
University of Birmingham Pro-Vice-Chancellor (International) Professor Robin Mason and President of BAM, Professor Dr. Ulrich Panne signed the agreement extension at a special ceremony in Berlin.
Professor Robin Mason said: "Europe continues to be a region of key importance for the University of Birmingham research and we continue to build and strengthen partnerships with major institutions across the European Union, such as BAM.
We have enjoyed a productive first year of partnership with BAM and our ongoing work together will provide an excellent basis for developing exciting collaborations - benefiting the advancement and use of scientific knowledge in the UK, Germany and beyond."
The agreement extension provides an ongoing framework for discussion and interaction leading to a range of activities that will help to demonstrate the technology, manufacturing or regulatory readiness levels of scientific developments.
Professor Ulrich Panne stated: "BAM is looking forward to deepening the collaboration with our strategic partner University of Birmingham and strengthening the ties with our British partner in key research fields."
Over the next three years, the partners will continue to collaborate on joint activities including research experiments, staff exchanges, seminars, joint publications and reports, as well as exchanging data, materials and samples.
For more information, please contact Tony Moran, International Communications Manager, University of Birmingham on +44 (0) 121 414 8254 or +44 (0)782 783 2312. For out-of-hours enquiries, please call +44 (0) 7789 921 165.
The University of Birmingham is ranked amongst the world's top 100 institutions, its work brings people from across the world to Birmingham, including researchers and teachers and more than 6,500 international students from over 150 countries.
Bundesanstalt für Materialforschung und –prüfung (BAM) is Germany's material research institute and its remits are to improve safety in technology and chemistry through research and development, testing, analysis, approvals, advice and information to the Federal Government, industry, and national and international organisations in the fields of material technology and chemistry. BAM has five focus areas:
Energy - research throughout energy carriers' usage chain, from production, to storage, to consumption, to disposal.
­ Infrastructure - technical reliability and ongoing safety of infrastructure systems and components, as well as all modes of transport.
­ Environment – research on the diverse and long-term reciprocal effects between materials and the environment.
­ Materials - characterization, period of use, reliability and sustainability of substances as well as basic and other materials are dealt with in the focus area materials.
­ Analytical Sciences - methodological and instrumental aspects of testing and measurement processes to determine reliable data.
BAM has 1700 staff (900 technical and scientist staff) and is located in Berlin. It reports to the German Federal Ministry of Economics and Technology.