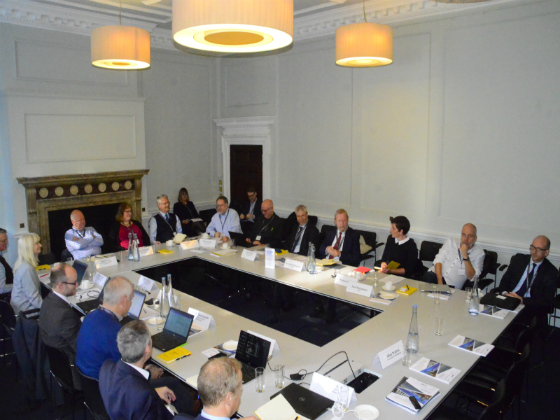 Researchers at the University of Birmingham are drawing together a panel of experts to help secure the future UK supply of technology-critical materials.
Chaired by former Government Chief Scientific Adviser, Sir John Beddington, the Policy Commission aims to develop a UK strategy for the supply of so-called strategic elements and critical materials – components of many modern technologies that are vital to the UK economy. It is launched today Monday 28 October and will report at the end of March 2020.
Demand for materials such as rare earths, used in magnets, cobalt, used in lithium ion batteries and platinum group metals that are key to the clean energy sector, is set to increase as we move to an electricity-based society.
Sir John said that the commission focuses on "A very important issue as we seek to make energy in a much cleaner way. Many of the technologies that we require in the future will require strategic elements and critical materials – which will become essential in our mission to innovate and reduce greenhouse gas emissions."
But while demand may be increasing, these materials are deemed 'critical', because the supply is restricted by a range of geological, economic, technological and political factors. For example, there has been significant attention in recent months on the potential for critical materials to be used as leverage in trade disputes.
Given the significance of critical materials to many of the UK's largest industrial sectors, the Policy Commission is convening at an important time. Critical materials underpin future supply chains in the automotive, energy generation, robotics and electronics sectors and so will be important to developing strategy that will secure supply while also minimising environmental and social impacts.
Dr Paul Anderson, Co-Director of the Birmingham Centre for Strategic Elements and Critical Materials (BCSECM), is one of the people convening the Commission. "It's vital that the UK adopts a coherent strategy on critical materials. For the most part this has been managed at an EU level – the UK now needs to gain a clear understanding of the global supply chain and how the UK fits in to this."
Sir John Beddington will be supported by a panel of expert members. These members will provide expertise on policy, technology, trade, regulation, ethics and national security.
Professor Allan Walton, Co-Director of BCSECM, adds: "Through the Centre for Strategic Elements and Critical Materials, the University of Birmingham has extensive expertise in this area. Our aim is to provide the momentum and clarity needed to help develop a UK elements strategy and to secure the national political support required for this."
Notes to editor:
For more information or interviews, please contact: Hasan Salim Patel, Communications Manager (Arts, Law and Social Sciences) on +44 (0) 121 415 8134 or contact the press office out of hours on +44 (0) 7789 921 165.
For more information on the Policy Commission and members:
Policy Commission Chair:
Sir John Beddington
Policy Commission Lead Academic Commissioners:
Paul Anderson (University of Birmingham)
Allan Walton (University of Birmingham)
Commissioners:
Andrew Abbott (University of Leicester)
Andrew Bloodworth (British Geological Survey)
Rob Chaddock (EMR)
Vernon Gibson
Neil Glover (Rolls Royce)
Robert Gross (Imperial College London)
Robin Grimes (MoD Chief Scientific Advisor for Nuclear Science & Technology, Professor of Materials Physics at Imperial College)
Gavin Harper (University of Birmingham)
Robert Lee (University of Birmingham)
Rupert Lewis (Government Office for Science)
David OudeNijeweme (APC)
Emma Scofield (Johnson Matthey)
Frances Wall (University of Exeter)
Policy Commission Manager:
Vicky Mann (University of Birmingham)
The University of Birmingham is ranked amongst the world's top 100 institutions. Its work brings people from across the world to Birmingham, including researchers, teachers and more than 6,500 international students from over 150 countries.