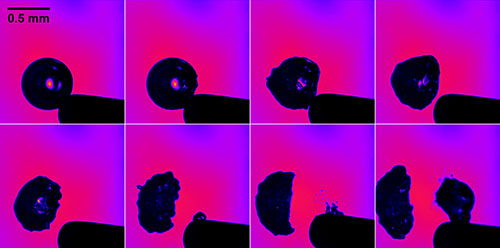 Nina Vyas, a postdoctoral researcher in the University of Birmingham's School of Dentistry, took 3rd place in the innovation category of the Engineering and Physical Sciences Research Council's (EPSRC) annual national science photography competition.
The 2019 competition, which attracted 169 entries, was an opportunity for all EPSRC-supported researchers and EPSRC-supported doctoral students to share their research using images.
Nina's image, entitled 'Up, up and away', captured cavitation, as Nina explains: "This underwater bubble has the power to clean surfaces. It is photographed in slow motion with a camera that takes more than 6,000 pictures in one second. The bubble is on the tip of a dental cleaning instrument and starts to dance, in a phenomenon known as cavitation.
"Cavitation happens in water when ultrasound passes through it. Tiny bubbles grow and collapse, emitting energy that can be used for cleaning. We are finding out how cavitation bubbles around dental ultrasonic scalers could be enhanced to create a novel method that will clean teeth and dental implants more effectively and with less pain."
First prize in the innovation category was awarded to Dr Qin Hu from the University of Nottingham. Dr Hu's award-winning image, entitled 'Wonderballs', showed various polymeric micro-sized balls fabricated by two-photon lithography-based 3D printing technology. The diameter of each ball is 40μm, roughly less than half of the diameter of human hair.
EPSRC, part of UK Research and Innovation, is the main funding body for engineering and physical sciences research in the UK. By investing in research and postgraduate training, it is building the knowledge and skills base needed to address the scientific and technological challenges facing the nation.