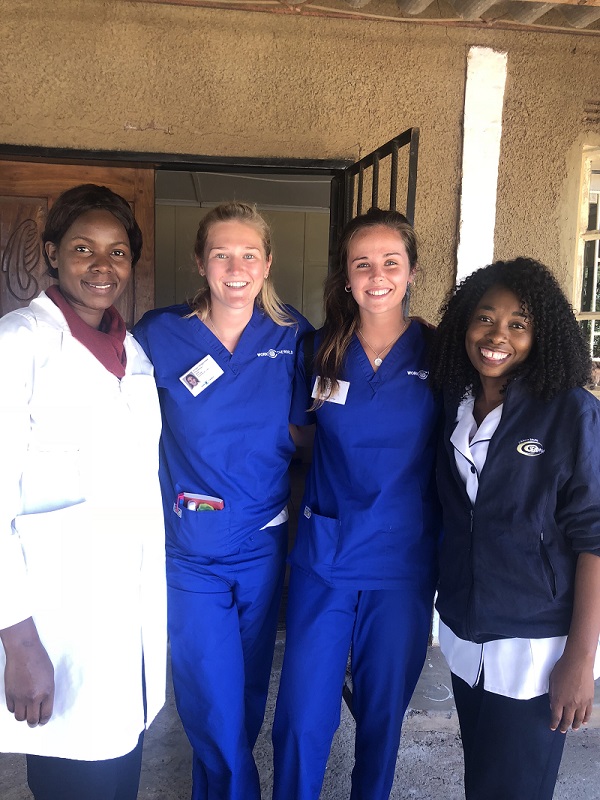 Ellena is a 3rd year physiotherapy student from the University of Birmingham. She recently travelled to Lusaka, Zambia on a four-week physiotherapy placement to see the differences between healthcare in the UK and in the developing world.
"I always knew I wanted to do my elective placement abroad. When I heard about Work the World, they seemed like the perfect organisation to help me plan my placement. I'd never been to Africa before either, so I was excited to explore a new continent!
On the plane, I happened to meet some other healthcare students who were on the same programme as me. This made me even more excited to get to Zambia so I could meet everyone else.
Living in a house with lots of different healthcare students was so much fun, especially after placement and on the weekends. I have made some lifelong friends from all over the world that I will now stay in contact with in the future.
During our first day in the country, we went on orientations of the local area, and our placement hospital. These really helped get rid of any nerves I had about my first day of placement.
My first two weeks of placement really stand out in my memory. I got experience with a range of interesting conditions rarely seen in the UK, like spinal TB and polio. I commonly saw severely progressed cases of spina bifida and hydrocephalus while I was on the general paediatric wards too. My role was to assess patient milestones, alertness and joint mobility.
During my time in paediatrics, I saw the same patients up to three times per week. This meant I developed a good relationship with patients' families too. I learnt so much from the patients and families that I was involved in treating. They were so willing to share their stories with me and were happy to answer questions about their culture. They were also interested in learning about the UK. I was pleasantly surprised by their level of spoken English — it made it easier to communicate with patients and families.
I spent time in the clubfoot clinic on Fridays. I'd never seen this condition before, so I really enjoyed being there. I got the chance to assess the babies and then help with casting them in POP.
I spent time in the main adult hospital for the second half of my placement. This is where I found my practical skills developed the most. The OPD had two main rooms, with the treatment focused on manual therapy and electrotherapy – this was one of the big differences between Zambia and the UK.
I even got to spend some time in the ICU. See how local staff treated such sick patients with limited resources was eye opening. They even used latex gloves filled with water underneath patients heels to prevent pressure sores!
I found it difficult to see patients receive a poor prognosis due to the lack of resources, especially on the trauma ward. I remember seeing young male patients with complete spinal cord lesions, unable to ever walk again, and with no social system in place to help them cope at home by themselves.
Even though there were limited resources and regulations in my Zambia placement hospital, it was humbling to see how hard the staff worked with what little they had. Their knowledge was fantastic, and they still managed to deliver a high level of care.
One weekend, some of the girls from the house and I travelled down to Livingstone. We had the most action-packed weekend, seeing Victoria Falls, travelling over the border to Botswana for safari, white water rafting down the mighty Zambezi river and going on a sunset cruise upstream from the falls.
I was completely blown away after seeing Victoria Falls. It was probably the best weekend of my life! One particular highlight was getting so close to so many elephants and seeing the lions whilst on safari in Chobe National Park in Botswana. It was an unforgettable trip.
If you're thinking about going on a placement abroad, I can't recommend it enough! It opens your eyes to a world much bigger than just the NHS. After seeing the system in Zambia, I will never take for granted the amazing healthcare service that the NHS provides".
Work the World specialise in tailoring overseas physiotherapy placements in Asia, Africa and Latin America. Their destinations provide eye-opening insight into the challenges associated with delivering healthcare in the developing world.