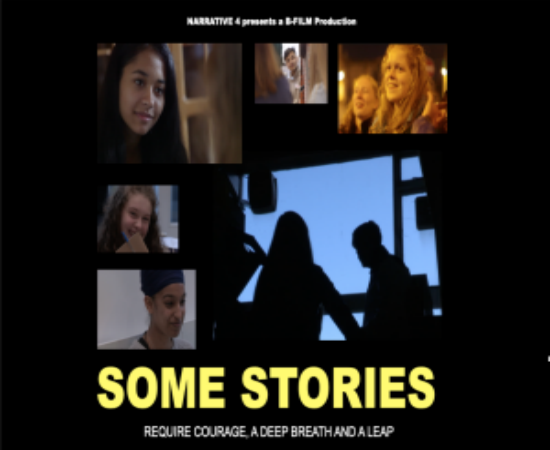 In November 2018, 15 English teenagers and 15 Irish teenagers came together to discover the power of empathy. Narrative 4, B-Film: The Birmingham Centre for Film Studies and the Department of Film & Creative Writing at the University of Birmingham invite you to the first public screening of 'Some Stories' to witness what happened next.
'Some Stories' is a documentary film showcasing a project involving 3 Birmingham schools - Holyhead, Joseph Chamberlain College and Earls High School. 15 students from these 3 schools visited Limerick, Ireland in November 2018 for 3 days to work with 15 students from Limerick; here, they took part in creative writing workshops, art workshops, cultural excursions and, most importantly, a 'story exchange'.
Organised by the University of Birmingham and Narrative 4, and co-ordinated by Dr Ruth Gilligan, acclaimed author and Senior Lecturer in Creative Writing at the University of Birmingham, the project revolved around the idea of a 'story exchange' whereby everyone partners up, swaps stories from their lives, then tells each other's story back to the group in the first person, thus really stepping into one another's shoes and fostering empathy.
Narrative 4, based in New York, was founded in 2012 by a group of writers and activists, led by the internationally-acclaimed author Colum McCann. Since then, Narrative 4 has brokered 'story exchanges' around the world such as South African, Israel, Palestine and Mexico, between schools with very different social mixes, and even between pro- and anti-gun groups. In 2016, Narrative 4 set up an office in Ireland, using a disused library in Limerick. Then in 2018, 15 students from the Gaelcholáiste Luimnigh (a school that teaches all subjects through the Irish language), were introduced to 15 students from 3 schools in or near Birmingham – Holyhead in Handsworth, Joseph Chamberlain Sixth Form College just south of the city centre, and Earls high school in Halesowen.
During a period of deep political polarisation and conflicting narratives around Brexit, these 30 students used their weekend to swap stories about identity, fears, beliefs and hopes. The weekend was then captured on camera by a team of film-makers, led by the University of Birmingham's Professor Rob Stone, and turned into the inspirational documentary 'Some Stories'.
Dr Ruth Gilligan says: 'I have been working with Narrative 4 for almost 5 years, but this was the most inspiring project I have ever been part of. Amidst the endless conversations around Brexit and borders, divisions and differences, to see the openness between the UK and Irish students was extremely powerful and profoundly moving. Their stories gave me hope.'
Long-term, Narrative 4 aims to develop the next generation of truly empathetic leaders. In the short-term, projects such as this aim to foster a sense of empathy, a greater degree of self-confidence, and a deeper understanding towards people from different cultural background. Indeed, the Birmingham students have already attested to how the project has impacted on their lives:
'I'm more confident in myself, I take more pride in what I do, I'm much more understanding and empathetic and more sociable and I'm less affected by people's perceptions about me now.'
'Narrative 4 has helped me understand that all people regardless of age, gender, culture are the same and experience similar emotions. It's helped me realise that I do in fact have a voice and stories of my own to tell; it's helped me realise we all matter.'
The screening will be shown at Birmingham's iconic Electric Cinema on May 7th. Before the screening there will be some introductory remarks by Ruth Gilligan, James Lawlor of Narrative 4 and Professor Rob Stone. Students from Holyhead, Joseph Chamberlain College and Earls High School – along with Gaelcholáiste Luimnigh – who participated in the project will also be attending along with writers and community organisers from across Birminghamthe country; these will include Birmingham Poet Laureate, Richard O'Brien, authors Luke Kennard and David Savill, as well as members of the Narrative 4 boards from the US and Ireland.
For more information and interview requests and to attend the screening at the Electric Cinema on May 7th, then please contact: Hasan Salim Patel, Communications Manager (Arts, Law and Social Sciences) on +44 (0) 121 415 8134 or contact the press office out of hours on +44 (0) 7789 921 165.
Interview options will be available on the day itself.