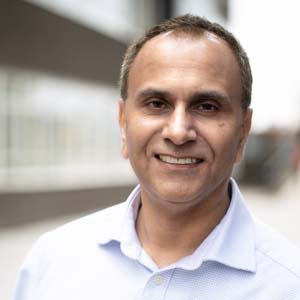 The distinguished award lectureship has been given in recognition of Professor Besra's outstanding contribution to lipid biochemistry.
Professor Besra's research group played a pivotal role in advancing our understanding of the biosynthesis of mycolic acids and elucidation of the mechanism(s) of action of existing and novel mycolate inhibitors. Gurdyal is now starting to exploit his fundamental M. tuberculosis research findings in terms of drug targets, using specialised in vitro assays and phenotypic whole-cell screens to provide new hit-to-leads for tuberculosis.
With international collaborators, Gurdyal has also been at the forefront in the discovery of M. tuberculosis T-cell antigens and elucidation of the CD1 antigen presentation pathway. He is currently exploring the immunotherapeutic potential of glycosyl ceramides and synthetic small-molecules against tumours, inflammatory diseases of the nervous system, systemic lupus erythematosus, and tuberculosis by designing analogues that can effectively promote the appropriate functions of CD1d-restricted T-cells, to treat diseases in which it is important to alter Th1 or Th2 polarisation.
Professor Besra heads a world-leading multidisciplinary team investigating key aspects of the microbial physiology of the Mycobacterium tuberculosis cell wall and the potential role of iNKT/CD1d therapeutics. He has been awarded and successfully managed over 40 research grants valued at over £20 million from The Wellcome Trust, the Biotechnology and Biological Sciences Research Council (BBSRC) and the Medical Research Council (MRC) during the period 2001-2019.
He has published over 480 internationally peer-reviewed articles (e.g. in Science, Nature, Immunity, Journal of Experimental Medicine, and Proceedings of the National Academy of Science USA), reviews and book chapters, been cited 36,231 times and has an H-index score of 107 (Google Scholar).
Of winning the Morton Lecture, Professor Besra said
"I am delighted with this Award that recognises the outstanding work members of my laboratory, past and present, have produced over the many years; it is an honour to join the distinguished list of winners of this award. I would like to take this opportunity acknowledge my mentors, Professor David E. Minnikin and Patrick J. Brennan, and the many other colleagues with whom I've collaborated with over the years that have underpinned much of our research achievements to date."