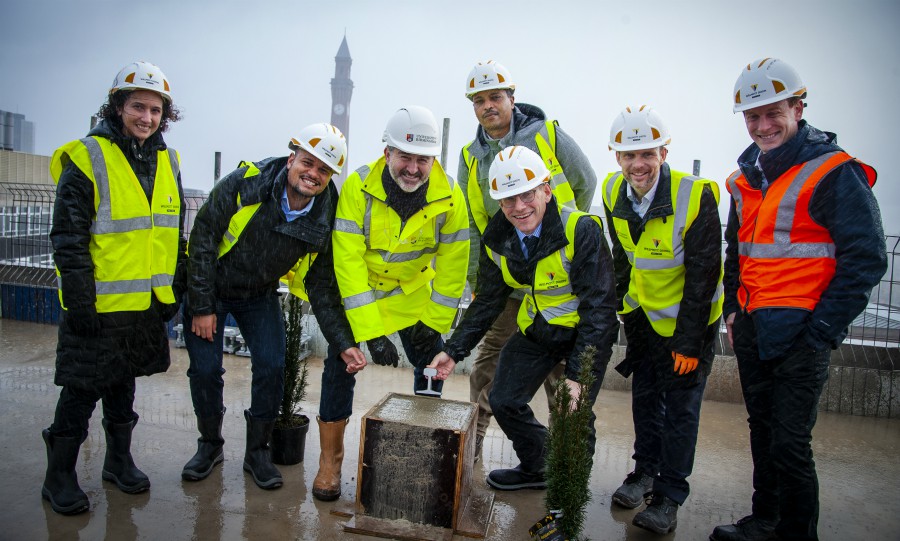 The University of Birmingham, in partnership with Willmott Dixon and Associated Architects, have celebrated the topping out of a new School of Engineering building.
The topping out of the building, designed by Associated Architects, marked the latest step in the creation of the facility is being developed alongside the new UK Rail Research and Innovation Network (UKRRIN) Centre of Excellence for Digital Systems.
Completing in 2020, the building will bring together many different engineering disciplines into one state-of-the-art space. It will provide different and more flexible ways of working for both staff and students, training the next generation of engineers.
Pro-Vice-Chancellor and Head of the College of Engineering and Physical Sciences at the University of Birmingham Professor Andy Schofield carried out the ceremonial duties. He said: "We are whole-heartedly committed to providing the very best facilities for tomorrow's engineers, and this building is set to put generations of undergraduates in the right direction for a successful career. It has been a pleasure to celebrate the topping out of this building, and I am particularly delighted to have some of our students here to witness it."
Willmott Dixon Senior Project Lead Russell Hall said: "We're pleased to be here today to celebrate this important milestone with the University, its students and our partner, Associated Architects. Reaching this point in the project represents a significant step towards the creation of this new hub for engineering, enabling research and teaching excellence to be celebrated and showcased. I have a clear view of how fantastic this building will be and look forward to continuing to work collaboratively to create a facility that everybody can be proud of."
Associated Architects Director Warren Jukes said: "Our design responds to the University's vision of creating a hub for enabling and showcasing sector-leading research collaborations, and effectively training the next generation of engineers. We've immensely enjoyed leading its development with a wide range of stakeholders. Today marks an exciting milestone in seeing that vision taking form on site!"
The project is due for completion in 2020 and marks the third major partnership between the University of Birmingham and Willmott Dixon, alongside the Green Heart, which was completed in early 2019 and the Teaching and Learning Building, which will be complete in 2020.
For further information, please contact Head of Communications and Engagement Sally Brooks on +44 (0)121 414 3984.