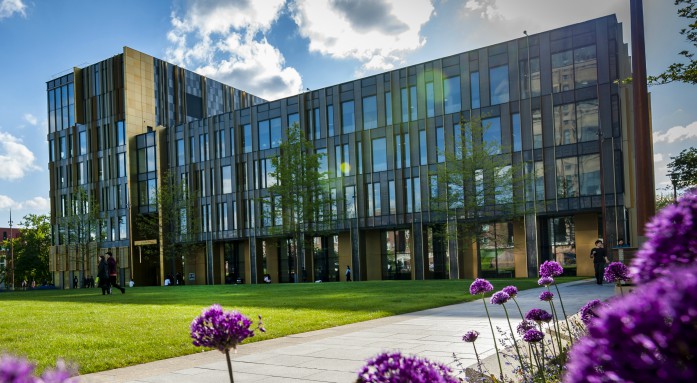 The University of Birmingham's main library has been given the 2019 Society of College, National and University Libraries Award for Design.
Showcasing the very best in recent academic library building, the award for Best Medium-Large Library 2016-19 commended the building for its transformational vision and innovative design.
The new library offered a once-in-a-generation opportunity to deliver a paradigm shift in how library services could support the University's mission. The development signified a shift from physical to virtual, a solely undergraduate focus, to one more supportive of research, as well as the crucial movement from print to digital.
Director of Library Services Diane Job said: "We are incredibly proud of our library and the positive impact it has made to students and staff at the University of Birmingham. It is a real pleasure to have accepted this award on behalf of the many people involved in making this complex project into a reality."
Associated Architects (AA) designed the library, which opened in 2016. AA Director Warren Jukes said: "We are immensely proud to win the SCONUL Large Library Design award for the second time. Its recognition of how our design prepared in close collaboration with stakeholders helped articulate the Universities vision for their library services enabling innovation and service redesign. To be selected for shortlisting is a great honour but to be picked out from amongst such tough competition, libraries at Kent, Leeds and Roehampton is astounding!"
The building delivers the highest levels of environmental sustainability. An advanced building management system controls lighting, heating and airflow based on prevailing conditions. It has an automated external blind system to prevent excessive heat gain or loss to maintain balance and minimise running costs. The exterior is dynamic rather than static, utilising innovative design, technology and materials for long term sustainability.
In terms of the space itself, it includes:
power points at all study spaces
flexible space e.g. enabling pop up furniture at peak times such as exam periods
specific zones for adaptive technologies
a dedicated, flexible space for our post graduate research community
a lounge environment adjacent to a café, both outside the entry gates
gender neutral toilets
an IT "clinic"
a search room adjacent to our Research Reserve
multiple training spaces located in high profile locations which signal our focus on skills provision for teaching, learning and research
a 50km mediated access Research Reserve housing the majority of our low use physical collections
a fully accessible changing room.
For further information, please contact Head of Communications and Engagement (Infrastructure) Sally Brooks on +44 (0)121 414 398.