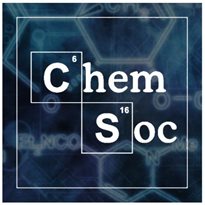 Oh, what a term it's been for ChemSoc – almost too much to sum up in so few words! But as always, we will endeavour to do our best.
The start of a new academic year is always a busy time for the Society. The organisation for our annual (wildly successful) freshers events starts as far back as June. This year was as successful as ever as we offered a variety of sober, drinking, free and paid events. Though the highlight was definitely one of our signature Pub Quizzes with a vintage ChemSoc Bar Crawl t-shirt up for grabs. We also brought back a selection of our most successful Christmas events to get our chemists in the holiday spirit. Well done to our Events Reps Joe Davies and Grace Hanrahan, who are currently working hard to organise more events for the new term including our biggest event to date, ChemBall: Welcome to the Twenties.
ChemSoc is nothing if not a well-rounded society which is perhaps best exemplified by our sporting prowess, with our netball team once again on track for a great season and to (hopefully!) keep that EPS Trophy champions accolade for another year. As well as this our Sports Rep Bryony Scutt works tirelessly to deliver the best experience in a wide variety of sports. Along with our incredibly popular casual and league football teams, excitement is building for the summer when we plan to introduce rounders to help detract from the immeasurable exam season stress. Badminton and tennis are also very much on the cards so watch this space!
Charity has always been one of the most important things to ChemSoc. So much so we've had to increase our committee to include 3 Charity Reps this year! Mahnoor Mateen, Chloe Walker and Megan Field have done an excellent job and raised over £500 being so far. We've had bake sales, food bank collections, raffles, lectures and collection buckets for our widest range of noble causes yet. In February students across all year groups will be running in the Birmingham Running Festival, along with MathSoc, to raise funds for the Teenage Cancer Trust – something we hope to make a yearly tradition. Word has it there's a little competition heating up between the two societies…
Of course one of the most important elements of ChemSoc is our careers support. Our Careers Rep Cherry Halfyard has worked hard all year to help facilitate speakers and careers fairs. This term she plans to bring back our speed networking event- twice! Firstly with Birmingham graduates and then academic researchers from within the School. Keep an eye out for what will no doubt be a set of insightful and informative events.
None of our work would be possible without the incredible work of our other committee members, so a special thanks is due to Lucy Walker our Social Media Rep (without you we would just be shouting into a void), our Teasurer Amy Richardson (seriously she's incredible) and finally our President Tammy Durant who is without a doubt one of the most powerful women I know.
Have a good term everyone and watch out for ChemSoc!
Nadia Farag
ChemSoc Secretary