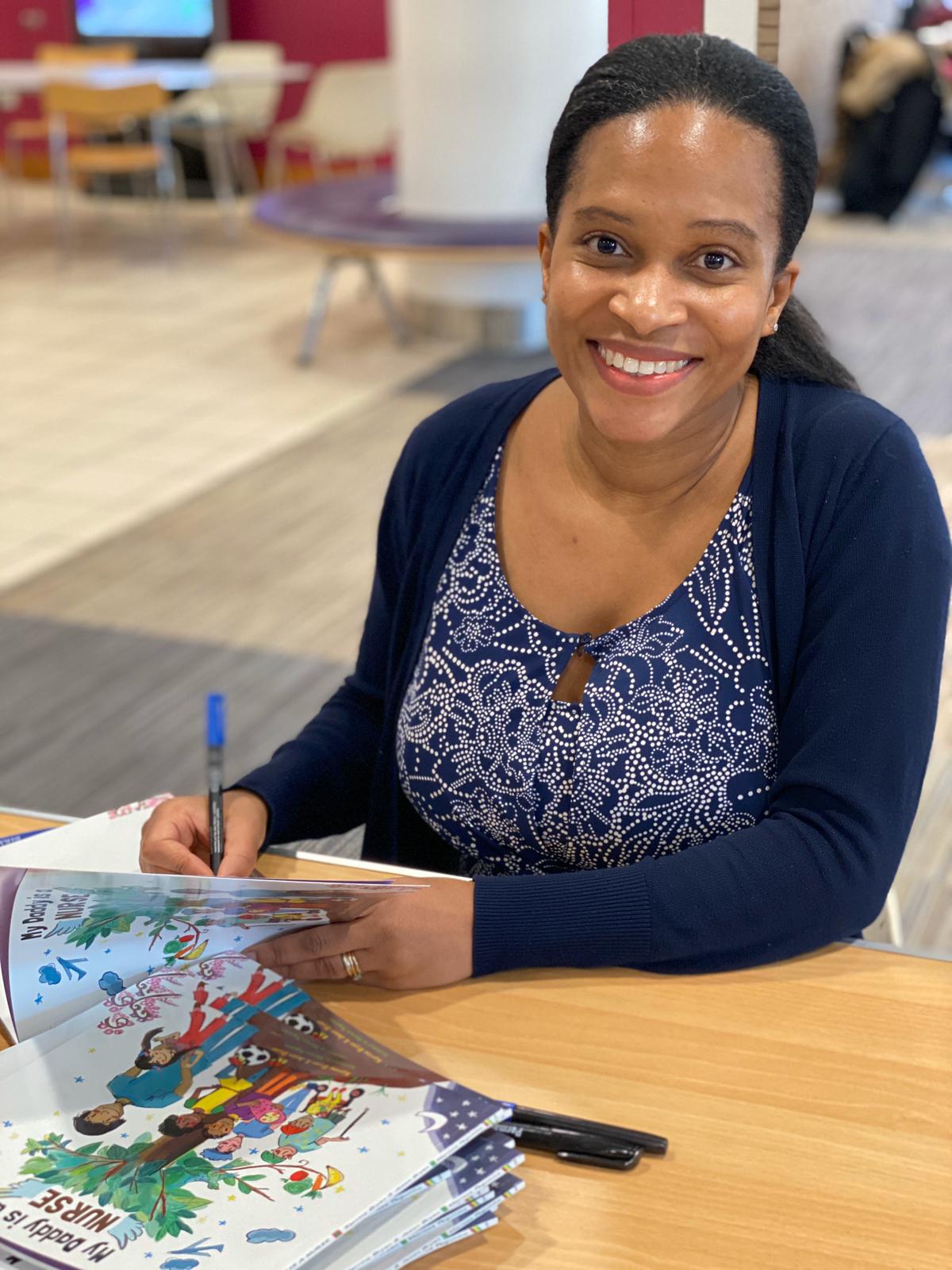 Award-winning engineer and author Kerrine Bryan (MEng Electronic and Electrical Engineering with Languages, 2005) visited the Medical School in February to promote her new book, 'My Daddy is a Nurse', and launch celebrations for the World Health Assembly's Year of the Nurse and Midwife 2020.
The novel, written in partnership with Nursing Now, is the latest instalment in Kerrine's series of children's books that challenge gender stereotypes within careers. Co-written with her brother Jason, previous titles in the illustrated series include 'My Mummy is an Engineer', 'My Mummy is a Plumber' and 'My Mummy is a Farmer'.
'My Daddy is a Nurse', the first 'My Daddy' in the series, introduces children to the world of nursing. "It's important to release this book now because it's the Year of the Nurse and Midwife," says Kerrine. "It's a great time for the book to be used as a resource in schools and to address misconceptions around nursing, who can be a nurse and what the job entails."
Schoolchildren from St Peter's CE Primary School attended the event and enjoyed a reading of the book by student nurse Elliot Gillings plus hands-on activities run by MedSoc's Teddy Bear Hospital in partnership with NurseSoc; activity stations included how to brush your teeth properly and how to call 999.
"We were delighted to support this event and raise awareness of nursing as a profession that is open to anyone regardless of their gender," Patricia Hibberd, Head of the School of Nursing, explains. "Nurses are a crucial part of the healthcare environment and we hope that this book will inspire many nurses of the future."
Beverley Matthews, Clinical Transformation Lead for NHS Horizons, also attended the event and gave further insight into why the Year of the Nurse and Midwife was so important from a recruitment and leadership perspective.
A number of student nurses were on hand to support the event and answer the schoolchildren's questions on what it's like being a nurse; the student nurses were kept on their toes with insightful questions ranging from 'What's the difference between a cold and a virus?' to 'How do you tell if someone is dead?'
The Year of the Nurse and Midwife launched 1 January 2020 and is held in partnership with the World Health Organization, the International Confederation of Midwives, International Council of Nurses, Nursing Now and the United Nations Population Fund, aims to celebrate the work of nurses and midwives and advocate for increased investments in the nursing and midwifery workforce.
The College of Medical and Dental Sciences, through the School of Nursing and colleagues within the Institute of Applied Health Research, will support the year-long initiative through a series of events and activities involving our students, staff and alumni.