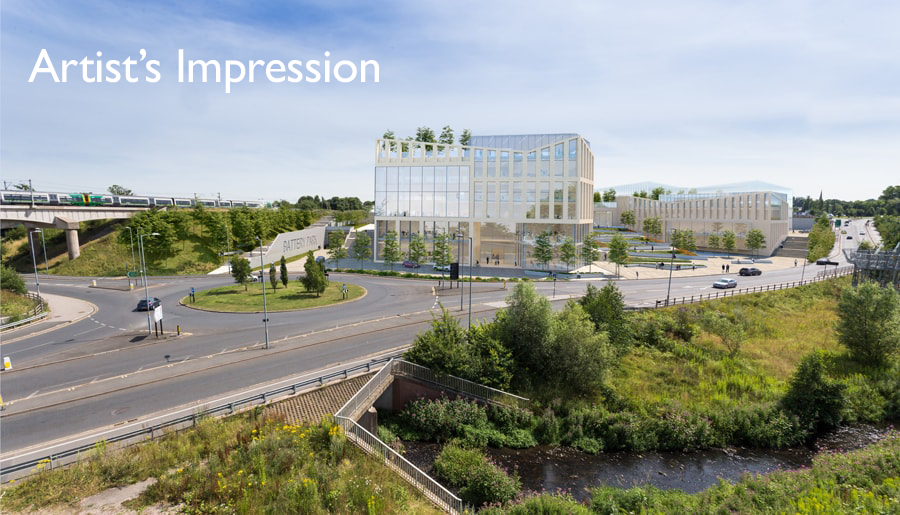 The Birmingham Health Partners ecosystem – which will soon begin construction of Birmingham Life Sciences Park – has been awarded Life Sciences Opportunity Zone status by the Department for Business, Energy and Industrial Strategy (BEIS).
As one of only six sites in the country to receive this designation, Birmingham Health Partners (BHP) has been recognised by Government for its world-class research infrastructure which brings together academics from the University of Birmingham, clinicians from University Hospitals Birmingham and Birmingham Women's and Children's NHS Foundation Trusts, and industry. The panel were impressed by the partnership approach and BHP's ambitious plans to catalyse growth within its established biomedical ecosystem, which already supports around 50 health and life science businesses, through the upcoming development of Birmingham Life Sciences Park (BLSP).
By working across BHP and in partnership with a major developer and regional stakeholders including West Midlands Combined Authority and Greater Birmingham & Solihull Local Enterprise Partnership, BLSP is set to deliver up to 3,000 jobs and generate more than £180m GVA[1] in the first ten years. With up to 750,000 sq. ft. available for health and life science businesses, BLSP will provide the 'front door' for industry to access BHP's thriving ecosystem including the region's large, diverse and stable 6m population – with wider regional impact assured through BHP's close working relationship with the West Midlands Academic Health Sciences Network.
Through attaining Life Sciences Opportunity Zone status, BHP and BLSP will be critical in delivering key themes of the life sciences Industrial Strategy, including: improving UK clinical trials capability; supporting the growth of life science clusters; linking businesses directly to the NHS; and delivering data-enabled healthcare innovation.
Dr John Williams, Managing Director of BHP, commented: "With our expertise officially recognised by BEIS and the Office for Life Sciences (OLS), we can accelerate the growth of our renowned and respected cluster for translational medicine. BLSP will be a world-leading life sciences development, creating high quality facilities for innovative businesses who will benefit from collaborating with us. It will allow us to retain successful businesses currently in existing regional incubators as they grow, and, working with DIT, attract new inward investment to the region, enabling businesses to work with BHP's academic and clinical leaders to develop and commercialise their ideas and translate them rapidly into the clinic.
"It is fantastic news for patients in our region and beyond, who will ultimately benefit from the novel drugs, diagnostics and devices which are already being developed across our campus."
Nadhim Zahawi MP, Parliamentary Under-Secretary for BEIS, commented: "The UK is home to one of the strongest, most vibrant health and life science industries globally, with discoveries and improvements in health diagnosis transforming people's lives.
"Collaboration is vital to growing this sector and this new £10million scheme will support the exchanging of ideas, knowledge and skills between researchers and businesses while encouraging strong collaboration with them, the NHS and the Government."
Andy Street, Mayor of the West Midlands, said: "Data-driven health and life sciences is a major market opportunity for the growth of our region's economy and I am delighted the Government has recognised this and is supporting us with the designation of BLSP as a Life Sciences Opportunity Zone.
"The park, which is built around the leadership and excellence offered through BHP, has allowed us to create an environment where health and life science businesses can thrive and grow, linking in to the diverse skills, clinical excellence and knowledge base of the region.
"Government investment will help us create the ideal location and accommodation for health and life science businesses to co-locate at the heart of a vibrant health campus and within a region that is both the fastest growing and most entrepreneurial outside of the South East of England.
"We look forward to working with BHP and Government to make the most of this opportunity."
The six Life Sciences Opportunity Zones will connect and collaborate to advance research in the health sciences and promote the UK's expertise in this sector internationally. By harnessing this new designation and working closely with BEIS, OLS and DIT, BLSP will become a focus for inward investment in life sciences for the West Midlands region.
This news follows recent major announcements from BHP, including the agreement of a collaborative working partnership with the Association for the British Pharmaceutical Industry, and the establishment of two HDR-UK Health Data Research Hubs based within BHP member organisations.