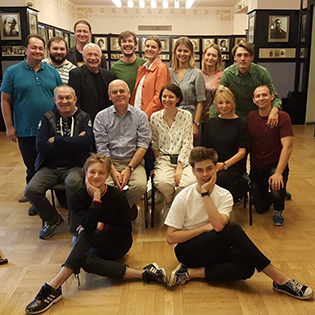 One advantage to virtual conferences is that they can circumvent problems with travel and visas that have hitherto inhibited the exchange of ideas across borders.
On the mornings of December 3rd and December 4th, the Shakespeare Institute will stage an online conference in collaboration with the Russian Shakespeare Centre, comparing notes about the state of Shakespearean scholarship and performance in Russia and in the UK before and during the current pandemic. The co-hosts will be Professor Michael Dobson, Director of the Shakespeare Institute, and Professor Vladimir Makarov, of the Russian Shakespeare Centre, whose headquarters Professor Dobson visited in 2019 while in Moscow to see Ekaterina Polovsteva's production of The Merchant of Venice at the Moscow Arts Theatre.
It is hoped that this event will lead to further collaborative Anglo-Russian scholarly ventures in Shakespeare studies: speakers will include Professor Ewan Fernie, who is looking forward to recruiting Russian specialists to help him appreciate the many Russian-language items in the Birmingham Shakespeare Library as part of his Everything to Everybody project.