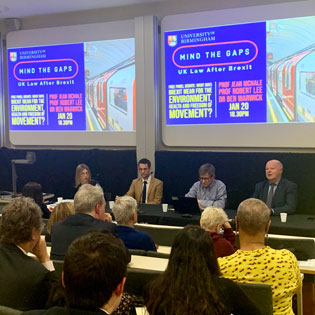 This week, Professor Robert Lee, Professor Jean McHale, and Dr Ben Warwick, came together at a panel event chaired by Professor Anthony Arnull to discuss gaps in UK law after Brexit.
The researchers from from Birmingham Law School each worked to warn policy makers of the "cliff-edge" situation that will face the UK should key legal implications of Brexit continue to be overlooked.
The event is available to watch on Facebook, and key points in their respective areas were:
Professor Jean McHale addressed gaps in Healthcare Law including the position of the European Health Insurance Card and other reciprocal health rights, healthcare professionals and mutual recognition of professional qualifications, clinical trials and future regulation of pharmaceuticals and public health.
Dr Ben Warwick highlighted how some of the Brexit agenda has been heavily business focused, and how there will be gaps in the laws around freedom of movement and the EU settlement scheme. Set piece announcements from governments have led to people making significant life choices (e.g. Irish nationals living in the UK being told they don't need to apply for the EU settle scheme) based on big picture promises. Many people have been 'blinded by the light' in such announcements, and there's been little attention paid to the legal detail, which may create 'grey zones' in areas like family rights.
Professor Robert Lee outlined that the vast majority of environmental law in the UK is derived from the European Union, and there are some areas – for example 'eco design' that will be immediately lost and not transferred to the UK. There are also many principles included in the treaties which will not be transferred over. With four governments across the UK that may take environmental law in different directions.
Each one of the researchers identified capacity issues within government as a barrier to solving some of the issues found in their gap analysis. As a result, some disintegration of protections that shape the day-to-day lives of people across the United Kingdom and Ireland is expected.
A series of interventions led by each researcher in recent years has brought these vulnerabilities to the attention of the public and politicians, and thus shaped subsequent regulations and legislation to prevent harms and protect rights relating to travel, healthcare and the environment.
They will continue to work in their respective areas. Watch the event and audience Q&A on Facebook.