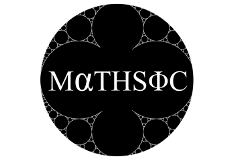 We kicked off 2020 with MathSoc On Tour, which was an incredibly fun trip to Prague! More than 30 maths students travelled and, with help from Invades, we had very successful trip which everyone thoroughly enjoyed.
In week 3 we held our infamous annual bar crawl with a twist. MathSoc members were split into teams and had a list of tasks to complete gaining them points throughout the night. We saw around 120 people attend and loads of teams completed all the tasks (including a photo under Old Joe at 4am!). A big thank you to Vodbull for helping us with yet another highly successful event.
We had a busy February thanks to 'Fundraising Feb' which involved two bucket shakes in Moseley, and us collaborating with ChemSoc (the Chemistry Society) for a charity run. In total we raised more than £4,500 for the Teenage Cancer Trust so a massive thank you was in order for all our volunteers! You can read about more about our successes in this run on the University website. The Teenage Cancer Trust have been very appreciative of our donations over the year. We also teamed up with Kinvig (Geography society) towards the end of February for a big game of Pub Golf, it was a great night with everyone going around Selly Oak in full golfing attire and having a good laugh.
MathSoc Sports have also had a brilliant term! We held our now annual Alumni Day where former students returned for an afternoon of football and a big social afterwards. We reinstated our Away Derby in Nottingham where the football and netball teams played their equivalent maths society, and then stayed on for an entertaining night out. We also entered rugby, netball and 6-aside football teams into the EPS Trophy (the College-wide sports tournament) and won the touch rugby! Finally on the sports front, a massive congratulations to MathSoc Football who won their league and to MathSoc Netball who came 4th in their league! We've got high hopes for next year now!
Also in March held a careers event where Ernst & Young (EY), BP, Teach First and the King Edwards Consortium (KEC) attended. Each gave an informational talk on their career opportunities and there was plenty of time for networking afterwards.
Finally (phew!), we had the MathSoc Spring Ball at the Botanical Gardens. It was a wonderful evening with everything from live entertainment from the band Sriracha People, DJ set with Ben Agnew, and a photographer to record our fun awards and dancing. A huge thank you to all the students, postgrads and lecturers who joined our celebrations and made it such a fantastic night!
I would like to say a massive congratulations to the outgoing committee for having an incredible year filled with lots of new and exciting events. And a big welcome to the new committee who were all elected at our recent AGM and the best of luck for the new year. Your new MathSoc committee are:
President – Megan Jenkins
Vice President – Lucy Butler
Treasurer – Eloise Osborn
Secretary – Kate Huxtable
Social secretaries – Niall Huddleston and Michael Hannaford
Sports officer – Adam Croughan
Volunteering officer – Jack Preece
Publicity Officer – Rebecca Everiss
Thank you so much to all MathSoc members for making this such an amazing term, we can't wait to see what the next year will bring!
Megan Jenkins
New MathSoc President 2020-21
To find out more about the Maths student society visit their website www.birmingham.ac.uk/eps/mathsoc.
There are 39 student groups in the College of Engineering and Physical Sciences. To learn more about their projects and activities head to www.birmingham.ac.uk/eps-societies.