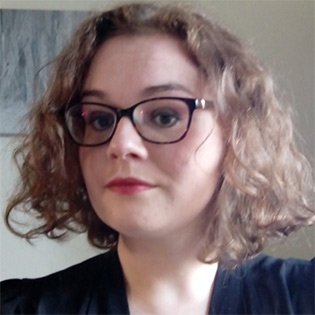 Modernist Profiles meets the members of the Centre for Modernist Cultures to explore their research interests, the work they are doing, and exciting developments in the field of modernist studies. This month we spoke to one of our doctoral researchers, Hannah Comer.
I became interested in the Pre-Raphaelites and their legacy when I was studying A Level Art and it has been the focus of my independent research since. I have also been interested in modernist figures such as W. B. Yeats and D. H. Lawrence for years. My BA dissertation was on William Morris and D. H. Lawrence and this research was the starting point for the PhD project.
My thesis looks at how the Pre-Raphaelite legacy is implicated in the making of modernist literature. It focuses on the works of Yeats, Lawrence and David Jones, as artists and writers. It traces the biographical and critical interactions between Yeats, Lawrence and Jones and the Pre-Raphaelites, looking at how the Pre-Raphaelite influence carried on throughout their lives.
For each writer, I look at different aspects of their engagements with the Pre-Raphaelite legacy. For Yeats, I look at his relationship with William Morris and his enduring engagement with Morris's ideas across his poetry, drama, critical writings and radio broadcasts. For Lawrence, I have researched his use of Pre-Raphaelite paintings and figures, such as Persephone, in the context of women's emancipation in his fiction and his poetry. In terms of Jones's workings with Pre-Raphaelitism, my research is more focused on his visual art as well as his poetry and critical writings, exploring his and the Pre-Raphaelites' artistic theories and their shared Arthurianism.
I have finished working on my thesis and I am preparing to submit soon, so for the past few months I have been revising it.
Recently, I have been doing more research on Edward Burne-Jones. I have done some work on Lawrence's portrayals of Persephone, (taken from the thesis) particularly his imaginative engagement with D. G. Rossetti's and Algernon Swinburne's treatment of the Persephone myth. I'm also excited to be presenting this research at the International Lawrence Conference, in Taos, New Mexico, later this year.
Anything Pre-Raphaelite and Morris!
I am particularly interested in the wider circles of the Pre-Raphaelites and modernists, in figures such as Violet Hunt and Evelyn De Morgan and, more widely, in the relationship between art and literature in the 19th century and early 20th century. I am fascinated by the Arts and Crafts movement and the works of key figures like May Morris.
I also have an interest in early 19th century Romanticism, namely Blake, Shelley, Byron and Keats, and how the Pre-Raphaelites and modernist writers work with this legacy. Modernist writers, such as Yeats, would have encountered Blake's work, for instance, through the Pre-Raphaelites' recovery and interest in his poetry and visual art.
I currently volunteer at the Birmingham Museum and Art Gallery as a Works on Paper Team Member. As a volunteer, I help out with documenting and researching the works on paper collection, as part of a project to digitise the artworks. This involves working with works on paper by artists from many eras. It has been amazing to have the opportunity to work first-hand with many Pre-Raphaelite works, especially Burne-Jones's!
Most of the projects I have done have been collaborative, and have provided me with the opportunity to jointly share research and interests. I am currently on the organising team for Walking with Lawrence, based in Nottingham. The project combines the digital humanities with literary heritage. We organised and led a walking tour of D. H. Lawrence's Nottingham, which was part of Being Human Festival in 2018. We are currently working on turning it into a downloadable audio tour. I am also a co-organiser of the D.H. Lawrence Studies Network, with my colleague Will Bateman, through which we have organised a guest lecture series and monthly reading groups based on different aspects of Lawrence's work. It has been great to work with Will on this project!
During my PhD, I have been an editorial assistant for the Central Online Victorian Educator (COVE) and a research assistant for the 19th Century Centre, both of which have given me an insight into the current and exciting work in the field of 19th century studies.