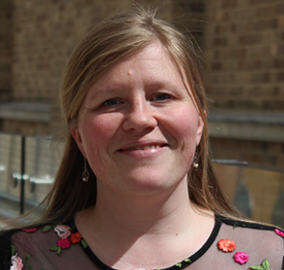 Dr Felicity de Cogan, Birmingham Fellow in the University of Birmingham's Institute of Microbiology and Infection, has won the Katerva 2020 Award in the category of Health and Wellbeing for her work on antimicrobial surface coatings.
NitroPep, developed by researchers at the University of Birmingham and led by Dr Felicity de Cogan, is an antimicrobial coating solution that has been developed to bond antimicrobial actives and disinfectants to both metal and plastic surfaces.
It has proven to rapidly kill bacteria that cause some of the most common hospital-acquired infections including strains of MRSA bacteria that have become resistant to several antibiotics.
Speaking of the award, Dr de Cogan, a chemist and material scientist who has been working in the field of translational research for healthcare for the past six years, said: "It is a great honour to receive a Katerva 2020 Award. It is a really prestigious recognition of what we have achieved and it means that we can publicise our research further."
Dr de Cogan added: "Through the Covid-19 pandemic, more than any other time, we have all become more aware of the potential of surfaces as a way of transmitting disease. The technology we developed in the Institute of Microbiology and Infection has a real potential to make surface transmitted infection a thing of the past."
The Katerva Awards recognise global sustainability and identify ideas which will make an impact on a global level with the potential to change industries. With over 1,000 nominees, the category winners are chosen from the top 50 finalists whose work is evaluated based on availability, financial viability, scientific feasibility, scalability, and the social and environmental impact it will have.
As a category winner, NitroPep is now under consideration to win the Katerva Grand Prize.