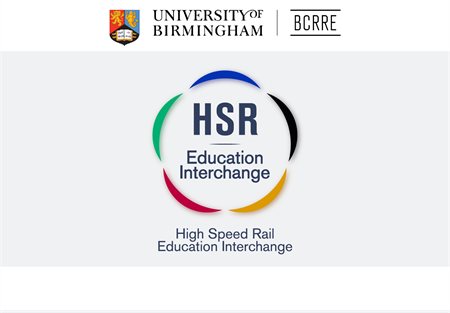 Leading industry experts will be keynote speakers and expert at the major event hosted by the Education department at the Birmingham Centre for Railway Research and Education.
The High Speed Rail Education Interchange conference will explore how industry, educators and trainers can work together to develop and deliver HSR systems. Delegates will share knowledge on current research, initiatives, innovations and best practice and international knowledge transfer drawing on their experiences. They will discuss the challenges facing the industry, and the opportunities for collaboration.
To register as a delegate please visit: www.birmingham.ac.uk/HSREI2020
Speakers and panel experts for Monday 14 December include:
Mark Thurston, CEO at HS2
Inaki Uriarte, New Operations and Innovation Director, Transport Mobility, Euskotren
Luisa Moisio, R&D Programme Director, RSSB
Professor Clive Roberts, Head of School of Engineering and Director of BCRRE
Professor John Dora, Director at Climate Sense and Founder of John Dora Consulting
Professor John Preston, University of Southampton
Toufic Machnouk, Programme Director for East Coast Digital Programme at Network Rail
Dr Pietro Tricoli, Senior Lecturer in Electrical Power & Control at the University of Birmingham
Luca Fracassi, Head of Business Development, Strategy and Innovation - Digital Services at Siemens
Speakers and panel experts for Tuesday 15 December include:
Deb Carson, Head of Operations at High Speed Rail Group
Francois Davenne, Director General of the International Union of Railways , UIC
Dyan Crowther, CEO at HS1
Richard Thorp, Engineering Director at HS1
Dr Holly Foss, Director of Education at BCRRE
Zena Green, International Teaching Fellow at the University of Birmingham
Neil Robertson, CEO at the National Skills Academy for Rail
Sharon Odetunde, Head of Research Partnerships at RSSB Rail, UKRRIN
Lucy Prior, MBE, Business Engagement Director at 3Squared
Jan Peters, MBE, Managing Director at Katalytik
Speakers for Wednesday 16 December include:
Professor Tsung-Chung Kao, Research Professor, Director - High Speed Rail Systems, University of Illinois at Urbana-Champaign
Professor Roderick Smith, Professor of Railway Engineering at Imperial College London and Chair of the Future Railway Research Centre
Ernesto Sicilia, Chairman and Managing Director, Trenitalia UK Ltd
Professor emeritus in Railway Systems Engineering, Felix Schmid says; "The conference 'High-Speed Rail: Education Interchange' is the online event where you can learn about the skill and education needs of the high-speed and very high-speed rail sector. Academics and industry experts will share their experiences and findings. A workshop on the third day of the conference will be used to develop guidelines for good practice in education and training for high-speed rail, it will also identify areas of research to support the sector."
To register as a delegate please visit: www.birmingham.ac.uk/HSREI2020
About the Birmingham Centre for Railway Research and Education
BCRRE, is Europe's largest academic-based group delivering railway science and education. With over 145 academics, researchers and professional support staff, BCRRE provides world class research and thought leadership within railways, and offers an expanding portfolio of high-quality education programmes, including Rail and Rail Systems Level 6 and 7 degree apprenticeships. In 2018 BCRRE became lead partner in the £92m UK Rail Research and Innovation Network (UKRRIN) and in 2019 it absorbed the activities of the Rail Alliance into its offering, increasing its breadth of support for innovation and growth in the rail industry. Contact BCRRE at: railway@contacts.bham.ac.uk.