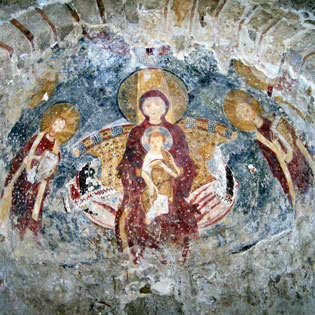 This week Centre for Byzantine, Ottoman and Modern Greek Studies project, The Crossroads of Empire, was awarded a Special Mention in the Research category at the European Heritage Awards / Europa Nostra Awards 2020 by Europa Nostra and the European Commission.
The Special Mentions are granted to initiatives which have contributed to the enhancement of Europe's cultural heritage.
The project was recognised by the Jury for its success in enhancing once abandoned sites that bear witness to European cultural exchange in medieval Europe.
Dr. Daniel Reynolds, co-director of the project, said: "It is a privilege to have the project commended by the Europa Nostra jury and I am delighted that these important Longobard sites are receiving international recognition. My deepest thanks go to my project collaborators in the UK and Italy, the Communi of Montecorvino Rovella and Olevano, my colleagues in SHAC and the students who participated in the Postgraduate and Undergraduate Research Scholarship Schemes, who have all contributed to making this project such a success."
The Crossroads of Empires Project is a collaborative venture between archaeologists, historians and art historians in the Czech Republic, Italy and the United Kingdom. The project draws together the results of a decade of excavation and historical research between international partners on two unique Longobard-period sites in the province of Salerno in Italy. The project brings to light these two uniquely preserved examples of Longobard ecclesiastical structures which represent the dynamism and multicultural nature of Longobard culture and their significance as cultural mediators between Byzantium, the Islamic world and the emerging powers of Medieval Continental Europe.