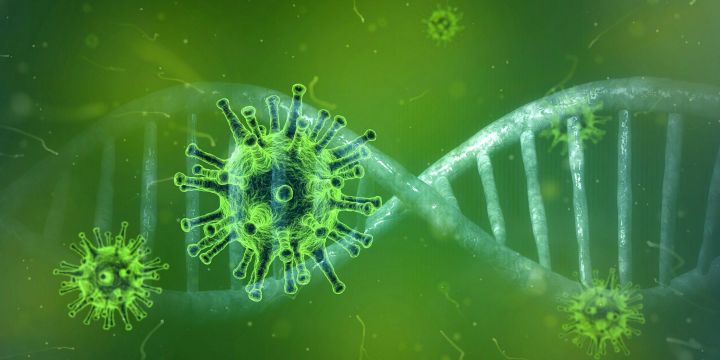 The Government and the UK's Chief Scientific Adviser have today (Monday 23 March) backed the UK's leading clinicians and scientists to map how COVID-19 spreads and evolves using whole-genome sequencing. Through a £20 million investment, the consortium will look for breakthroughs that help the UK respond to this and future pandemics, and save lives.
The COVID-19 Genomics UK Consortium - COG-UK - comprised of the NHS, Public Health Agencies and academic institutions – including the University of Birmingham - will deliver large scale, rapid sequencing of the cause of the disease and share intelligence with hospitals, regional NHS centres and the Government.
Samples from patients with confirmed cases of COVID-19 will be sent to a network of sequencing centres which currently includes Birmingham, Belfast, Cambridge, Cardiff, Edinburgh, Exeter, Glasgow, Liverpool, London, Norwich, Nottingham, Oxford and Sheffield. The Wellcome Trust Sanger Institute will provide large-scale sequencing capacity and additional support.
The University of Birmingham, led by Nick Loman, Professor of Microbial Genomics and Bioinformatics in the Institute of Microbiology and Infection, have deployed a real-time genome sequencing facility established at the University capable of sequencing genomes of the virus causing COVID-19 from patients in the West Midlands in less than 24 hours.
Professor Loman says: "This is a remarkable collaboration which brings together Birmingham and the UK's incredible depth of expertise and knowledge in viral sequencing and genomics. An open and distributed model of sequencing involving both academia, the NHS and our public health bodies is the right way to ensure results are delivered quickly to decision-makers. We are now well positioned to return deep insights into understanding the rapidly-accelerating pandemic of COVID-19, easily the most pressing infectious disease emergency we have faced in two generations in the UK.
"The government's investment is well-timed to accelerate the pace of viral genome sequence production and ensure this information is openly available to epidemiologists and virologists worldwide. This will provide an unprecedented real-time view of COVID-19 virus evolution."
Understanding viral evolution is important for understanding how the virus is spreading in local, national and international settings. It provides valuable epidemiological information revealing the chains of transmission that must be stopped in order to stop this outbreak.
We also stand to observe how the virus adapts to a human host over time, and how human interventions including drug treatments and eventually vaccines, exert pressure on the virus.
The consortium benefits from two major initiatives in which the University of Birmingham has played a pivotal role: ARTIC and CLIMB. The CLIMB project, which recently secured funding for a further five years with the CLIMB-BIG-DATA project, will provide the data analysis pipelines, computing and storage capacity required to analyse the large genome datasets produced by the consortium, as well as facilitating national and international research capabilities.
The ARTIC project, funded by a Wellcome Trust Collaborative Award, is a collaborative project to put genomics at the heart of outbreak response. Dr Josh Quick, a UKRI Future Leaders Fellow in the Institute of Microbiology and Infection rapidly developed a method for sequencing coronavirus, released to researchers back in January, and which has already been widely adopted across the world. This method builds on work previously successfully used to trace epidemics of Ebola virus and Zika virus.
Dr Quick says: "Based on previous experiences with Ebola and Zika virus we were able to rapidly develop an approach to sequencing the COVID-19 virus rapidly using a targeted method. The importance of this method is that it works well even when only miniscule amounts of virus are present in the sample, something we commonly see. It has been used to generate the first genomes from countries including Brazil, Scotland, Wales and Northern Ireland with nanopore sequencing and we have helped over 50 groups in over 20 countries establish genome sequencing capabilities in their own labs."
For media enquiries please contact Beck Lockwood, Press Office, University of Birmingham, tel: +44 (0)781 3343348.
About ARTIC:
Funded by a £3M Wellcome Trust Collaborative Award to Birmingham, Edinburgh, Cambridge, KU Leuven, The Fred Hutch Center and UCLA, ARTIC aims to put genomic sequencing at the heart of outbreak response. ARTIC develops protocols and methods for real-time viral genome sequencing and has been involved in major viral outbreaks, notably recently assisting teams in the Democratic Republic of Congo to sequence Ebola.
About CLIMB
Funded initially by a £8.5M investment from the Medical Research Council in 2014, the CLIMB project recently had its funding renewed for a further five years. CLIMB provides bioinformatics capabilities for the UK microbiology community. Featuring over ten petabytes of data storage capacity physically across four sites in the UK including Birmingham, CLIMB is an essential resource for the analysis of microbial big data. To date, CLIMB remains the only truly federated academic research cloud operating in the UK. The current live system is physically located across the Universities of Birmingham, Cardiff, Swansea and Warwick and the CLIMB research partnership has expanded to include the Universities of Bath and Leicester, as well as the Quadram Institute.
Additional quotes:
Government Chief Scientific Adviser, Sir Patrick Vallance said: "Genomic sequencing will help us understand COVID-19 and its spread. It can also help guide treatments in the future and see the impact of interventions.

"The UK is one of the world's leading destinations for genomics research and development, and I am confident that our best minds, working as part of this consortium, will make vital breakthroughs to help us tackle this disease."
Prof Sharon Peacock, Director of the National Infection Service, Public Health England, said: "This virus is one of the biggest threats our nation has faced in recent times and crucial to helping us fight it is understanding how it is spreading. Harnessing innovative genome technologies will help us tease apart the complex picture of coronavirus spread in the UK, and rapidly evaluate ways to reduce the impact of this disease on our society."
Professor Sir Mike Stratton, Director of the Wellcome Sanger Institute, said: "In response to the ongoing COVID-19 pandemic, the Sanger Institute will deploy its large-scale sequencing platform alongside regional sequencing centres to support UK Public Health Agencies, regional NHS centres and several Universities to better understand the coronavirus outbreak in the UK.

"Samples from substantial numbers of confirmed cases of COVID-19 will be whole genome sequenced and, employing the Sanger Institute's expertise in genomics and surveillance of infectious diseases, our researchers will collaborate with other leading groups across the country to analyse the data generated and work out how coronavirus is spreading in the UK. This will inform national and international strategies to control the pandemic and prevent further spread."
Sir Jeremy Farrar, Director of Wellcome, said: "By bringing together public health expertise from Public Health England and genomic science from the Wellcome Sanger Institute the UK can crack the code of this virus, and we should give everyone involved huge credit for that.

"Rapid genome sequencing of COVID-19 will give us unparalleled insights into the spread, distribution and scale of the epidemic in the UK. The power of 21st century science to combat this pandemic is something that those going before us could not have dreamt of, and it is incumbent on us to do everything we can to first understand, and then limit, the impact of COVID-19."
Professor Fiona Watt, Executive Chair of the Medical Research Council, part of UK Research and Innovation said: "The UK is a leader in cutting edge genome sequencing science. We are now applying specialist expertise in our fight to slow the spread of Coronavirus and accelerate treatments for those affected. The ambitious and coordinated response of our research community to the COVID-19 challenge is remarkable."
Business Secretary Alok Sharma said: "At a critical moment in history, this new consortium will bring together the UK's brightest and best scientists to build our understanding of this pandemic, tackle the disease and ultimately, save lives. As a Government we are working tirelessly to do all we can to fight COVID-19 to protect as many lives and save as many jobs as possible."