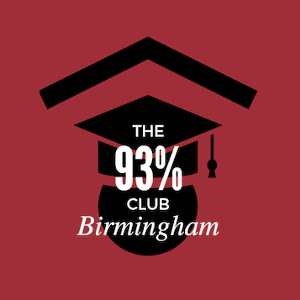 We hope you are well and staying safe during these uncertain times. Although we would LOVE to meet each and every one of you in person we're aware this may not be possible, so keep an eye out on our Instagram and LinkedIn for updates on virtual events.
We are a brand new society! The 93% Club was initially founded by Sophie Pender at the University of Bristol and was established this year by Abbie Bauckham and Nazibur Rahman at the University of Birmingham.
Our aim is to empower students from socially mobile backgrounds and provide them with opportunities that will help level the playing field when it comes to academic and employment opportunities. By joining our society you will be part of a like-minded family of individuals who are all aspiring to enter top professions, no matter what your background. Having this support network will give you the motivation and skills to have confidence in yourself when competing against those who may have attended private school or gained other advantages.
Not only have we started a brand new society in a global pandemic, but we've also taken on a very exciting new venture – our very own podcast! Our first episode features Mohammed Kamaly, a Risk Business Partner by profession who speaks about his University experience and tackling imposter syndrome. It is available now on Spotify (search 'The 93% Club Birmingham Podcast').
Whether you are about to begin university, or whether you are a continuing student, his hints and tips for navigating university life will definitely help you prepare for the coming academic year. Be sure to subscribe to the podcast to avoid missing out on further episodes with guests from every profession!
To join The 93% Club simply join our Facebook Group or email us on the93percentclubbirmingham@gmail.com.
We wish you all success in your journey through higher education and into top professions. We can't wait to meet you, either virtually or in person, very soon!
To find out more about The 93% Club visit their website www.birmingham.ac.uk/eps/93Club.
There are 42 student groups in the College of Engineering and Physical Sciences. To learn more about their projects and activities head to www.birmingham.ac.uk/eps-societies.