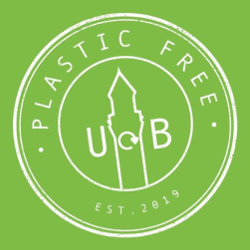 Plastic- Free UoB have had a fantastic first year and made great strides this autumn term. With a shining new logo and an expanded committee, the team set out to tackle plastic-waste head-on.
First off, President Sarah and Co-Founder Harriet welcomed five new additions to the Plastic-Free committee with Vice President Cameron, Sports Coordinator Bryony, Events Coordinator Alex, Katie in Communications and our Social Media Manager Becca.
We kickstarted the term with a partnership with the Clean Kilo in Digbeth. Our student shopping day allowed 40 lucky students to book slots at the Clean Kilo store to try out zero-waste shopping at a 20% discount. This encouraged people to make small sustainable swaps to their weekly shops and hopefully this has opened people's eyes to some of the zero-waste possibilities that are available. We're keen to repeat this and would love to see the Clean Kilo come to campus in the New Year so even more of you can get a taste for zero-waste.
Our Sports Coordinator Bryony is also pleased to announce the launch of our Plastic-Free Netball Team. Although sports have been cut short thanks to the current COVID lockdowns, we had a brilliant response from all our members and can't wait to get back on the courts. We're so pleased to be building a wider community and love seeing everybody getting involved!
As we made the transition online in November, our Events Coordinator Alex hosted Plastic-Free UoB's first-ever Sustainability Symposium. Students from across the University submitted a 200-400 word abstract on a topic of their choice, ranging from but not limited to plastics, carbon capture, climate change, indigenous peoples and space travel. On Wednesday 18 November, nine students were invited to take part in our webinar to discuss their topic in a 5-minute presentation. This was a brilliant platform to hear so many people share such a strong passion for sustainability and their incredibly interesting perspectives had us glued to our screens throughout.
In hand with this virtual event, our Social Media Manager Becca has been keeping us all up to date with news articles, plastic-free tips and weekly product suggestions on our Instagram. So if you're not already following us, make sure to check out @PlasticFreeUoB.
To round off a festive end to the term, we partnered with the Universities of Essex and Nottingham for a Christmas sustainability quiz. As we all get drawn into the panic-buying and Black Friday sales of the season, it's easy to lose sight of the volumes of waste that are generated at Christmas. The quiz night was not only a fun opportunity to collaborate with other universities, but also a huge reminder to consider changes we can make at this time of year.
Finally, we are pleased to announce that we have gained sponsorship from the Birmingham Energy Institute who we're very excited to work alongside to help us continue our canal clear-ups and litter picks!
As we enter the New Year, we're so hopeful to be able to see you all again in person and start to turn the tide on 2020's excessive plastic use. To help achieve this we would like to remind you that everybody is welcome at Plastic- Free UoB. From students to staff, first-time recyclers to full eco-warriors, we would love to see you all as soon as we can hold a socially distanced clear-up.
Until then, thank you for a brilliant Autumn Term and we're looking forward to an even better 2021.
To find out more about Plastic-Free UoB visit their website www.birmingham.ac.uk/eps/plastic-free.
There are 42 student groups in the College of Engineering and Physical Sciences. To learn more about their projects and activities head to www.birmingham.ac.uk/eps-societies.