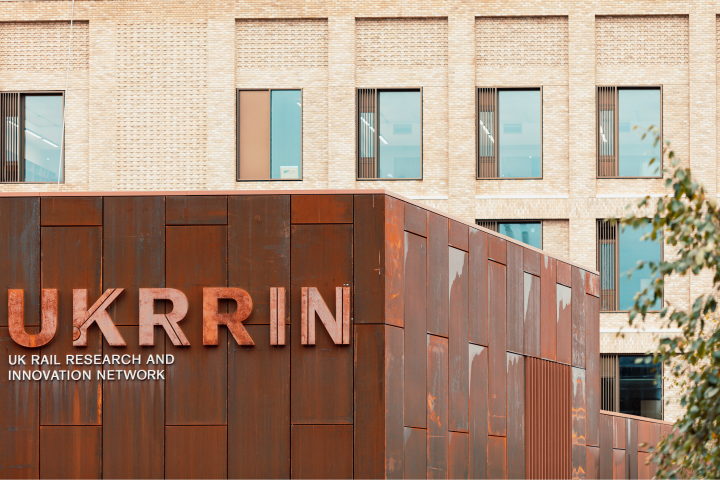 A new purpose-built centre designed to deliver specialist research in digital railway engineering has been opened at the University of Birmingham.
The Centre of Excellence for Digital Systems showcases successful collaboration between academia and industry, as the university has partnered with the UK Rail Research and Innovation Network (UKRRIN) to commission the facility, with £16.4m in funding from Research England.
The Centre sits within the Birmingham Centre for Railway Research and Education (BCRRE) and is set to unite existing academic and industry capabilities to innovate and support transformational change within the rail technology sector, globally.
The building represents the first phase of construction work for a £46.5m School of Engineering development at the University of Birmingham and has been completed this month (November 2020) by contractor Willmott Dixon.
Procured through the Constructing West Midlands framework, the 3,000m2 facility offers a variety of contemporary and flexible design and research spaces that act as an incubator for innovation, strengthening teaching and building research partnerships. Open offices, meeting rooms, seminar rooms and event spaces will enable industry partners to come and work directly with University experts and researchers.
The facility also has project labs, light labs and state-of-the-art equipment including cab simulators, signalling control centre, cybersecurity test lab along with electronic fabrication and technology assets to enable high quality, fast-paced research, through to proof-of-concept and testing.
The centre will house specialist research in digital railway engineering, focusing on railway control and simulation, data integration, cybersecurity, condition monitoring and sensing, and improved methods for technology introduction.
Professor Clive Roberts, Head of the School of Engineering at the University of Birmingham, says: "The completion of this exceptional facility is a major step forward in our longstanding partnership with UKRRIN. We are really grateful for the support from Research England and the superb contracting work from Willmott Dixon – and we're looking forward to using the facility to deliver outstanding collaborative research with long-term, real-world impact."
Nick Gibb, deputy managing director for the Midlands at Willmott Dixon, said: "We are delighted to have led the development of such a significant resource, both regionally and within the sector – the facility is set to pioneer advancements within engineering and digital systems research.
"Despite completing the final stages of the project during the Covid-19 pandemic, our teams optimised industry-leading safety and social distancing measures, which meant we were able to remain on-site during the pandemic and ultimately deliver this phase of the project on time.
"This development is the third major partnership we have entered into with the University of Birmingham, having recently completed the Teaching and Learning Building, along with the Green Heart campus development. We look forward to completing the second and final stage of the School of Engineering project in early 2021."
Designed by Associated Architects the striking building has been created to align with the rail industry, featuring Corten cladding to give the same visual impact as railway lines and track signalling.
The investment in the Centre of Excellence forms part of the university's commitment to providing first-class engineering education. The development aims to improve student experience, allowing engineering undergraduate and postgraduate students to get involved in cutting-edge research and ensuring students graduate with a strong connection to the industry.
This project completion follows the announcement of the University of Birmingham's involvement in a collaborative consortium being led by Transport for West Midlands to transform the University Station within the city.
Warren Jukes, director at Associated Architects, said: "The completion of the UKRRIN facility is an important milestone within the wider School of Engineering project. We are thrilled with the distinct identity achieved using weathered steel, which epitomises the industrial nature of the railway industry in a contemporary and refined style - juxtaposing yet complimenting the buff brick of the School of Engineering and traditional styles of the iconic red brick buildings on campus.
"Research teams will benefit from facilities including large, flexible laboratory and collaborative office spaces that are future-proofed for this fast-moving sector. Direct links to the School of Engineering are intended to facilitate new collaborations between research and industry that will have far-reaching benefits."
For media enquiries please contact Beck Lockwood, Press Office, University of Birmingham, tel: +44 (0)781 3343348
About the University of Birmingham
The University of Birmingham is ranked amongst the world's top 100 institutions. Its work brings people from across the world to Birmingham, including researchers, teachers and more than 6,500 international students from over 150 countries.
About the Birmingham Centre for Railway Research and Education
BCRRE, is Europe's largest academic-based group delivering railway science and education. With over 145 academics, researchers and professional support staff, BCRRE provides world class research and thought leadership within railways, and offers an expanding portfolio of high-quality education programmes, including Rail and Rail Systems Level 6 and 7 degree apprenticeships. In 2018 BCRRE became lead partner in the £92m UK Rail Research and Innovation Network (UKRRIN) and in 2019 it absorbed the activities of the Rail Alliance into its offering, increasing its breadth of support for innovation and growth in the rail industry. Contact: BCRRE at railway@contacts.bham.ac.uk.
About UKRRIN
The UK Rail Research and Innovation Network (UKRRIN) is designed to create powerful collaboration between academia and industry, aiming to provide a step-change in innovation in the sector and accelerate new technologies and products from research into market applications globally. UKRRIN comprises four Centres of Excellence covering Digital Systems, Rolling Stock, Infrastructure and Testing.
About Willmott Dixon
Willmott Dixon is a privately-owned contracting and interior fit-out group.
Founded in 1852, we are dedicated to leaving a positive legacy in our communities and environment and in 2018 were one of only six companies to receive a Queen's Award for Enterprise in the promoting opportunity through social mobility category.
We create value for customers, stakeholders and communities by working sustainably and responsibly to shape the built environment and make a positive impact to society's well-being.