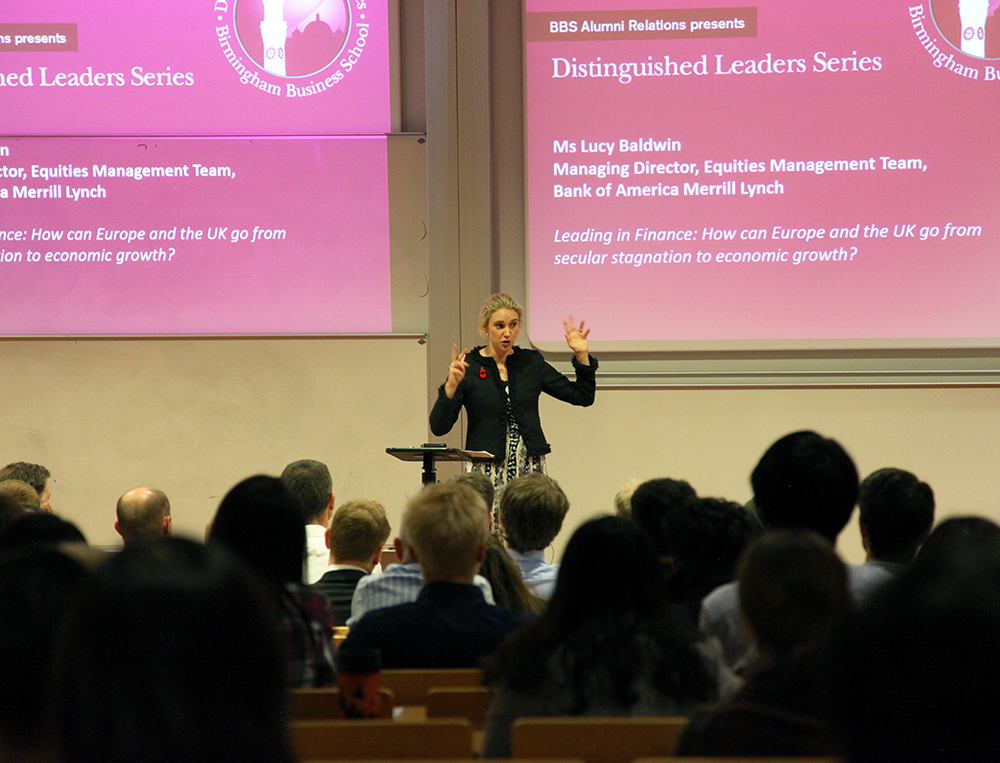 Lucy Baldwin (BSc Economics, 2004), Managing Director Equities Management Team at Bank of America Merrill Lynch, returned to campus on 4 November 2015 to share her experience of the finance sector.
Lucy provided insights to more than 200 University of Birmingham alumni, students, staff, and business partners. She explained how her career had progressed from early experience in UK finance to a more global focus through her time as a research analyst with Goldman Sachs.
Lucy used her extensive experience to give advice to attendees on how they could forge a career in the sector, dismissing suggestions that UK finance was in a state of secular stagnation. She explained how the UK economy is in a more robust position than similar European markets, but also used her years of experience in research to question future potential for economic growth.
Lucy suggested that whilst it can be difficult to predict when markets will react to change, the sector needs to recognise risks early and adapt regulation accordingly. She also discussed how a forward thinking outlook and good quality fundamental research are vital to success in all sectors and careers.
In addition to the lecture, the session also included a round table between Lucy and current students, and a speed networking session with four other alumni and friends who are senior leaders in Finance:
Andrew Dale, Director, Global Banking & Markets Loan Management, HSBC
Richard Bishop, Head of Investments, Business Growth Fund (until June 2015)
Chris Romans, Partner and Head of Private Business, PwC
Ray O'Donoghue, Managing Director, Midlands Corporate, Barclays Bank
Listen to Lucy's full lecture below:
Lucy Baldwin talks before her lecture about her career, her time at Birmingham and what her advice would be to recent graduates.
One of the corporate world's brightest young stars, Lucy was in the Forbes' 30 Under 30 in Finance for two consecutive years. Lucy is at the forefront of the charge by women into leading jobs in finance. She started her career at Cazenove (now JP Morgan Cazenove) before moving to Goldman Sachs in 2006. Best known for her knowledge of the global luxury goods industry, Lucy covered the retail and consumer products sectors for many years, as well as engineering and construction industries. She is a keen champion of the rise of young, dynamic talent in the finance sector.
Launched in 2012 by the Birmingham Business School Alumni Relations team, the Distinguished Leaders Series, brings high profile speakers from a range of industries across the world onto campus to reflect on their personal journey and discuss leadership issues that are close to their heart.