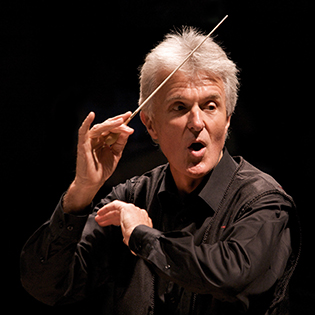 Simon Carrington, internationally renowned musician and conductor, will take up a new role at the University as Visiting Professor of Choral Conducting from October 2016.
Based in Birmingham, Carrington will join the Department of Music to conduct two of the University's most decorated vocal ensembles - Birmingham University Singers and University Women's Choir. Carrington will also support the teaching provision of the Music MA: Choral Conducting programme at the University, and joins Professor Simon Halsey CBE, and Visiting Lecturer, Julian Wilkins, as a member of the distinguished choral music-making team at the University.
Of the appointment, Carrington commented: "I am delighted to have been invited to be Visiting Professor of Choral Conducting to work with Simon Halsey, his choirs and his students at the University of Birmingham and the CBSO. Having spent 20 years directing similar programs in the US and training several generations of choral conductors, I look forward to using my experiences there to contribute to Simon's dynamic and exciting programme."
Simon Carrington currently holds the position of Emeritus Professor of Choral Conducting at Yale University, and was previously Director of Choral Activities at New England Conservatory, Boston, and the University of Kansas. Prior to moving to the United States, Carrington was a founding member of internationally acclaimed British vocal ensemble, The King's Singers, and performed and recorded with the group for 25 years. Carrington is also the founder of the renowned American chamber choir, Yale Schola Cantorum.