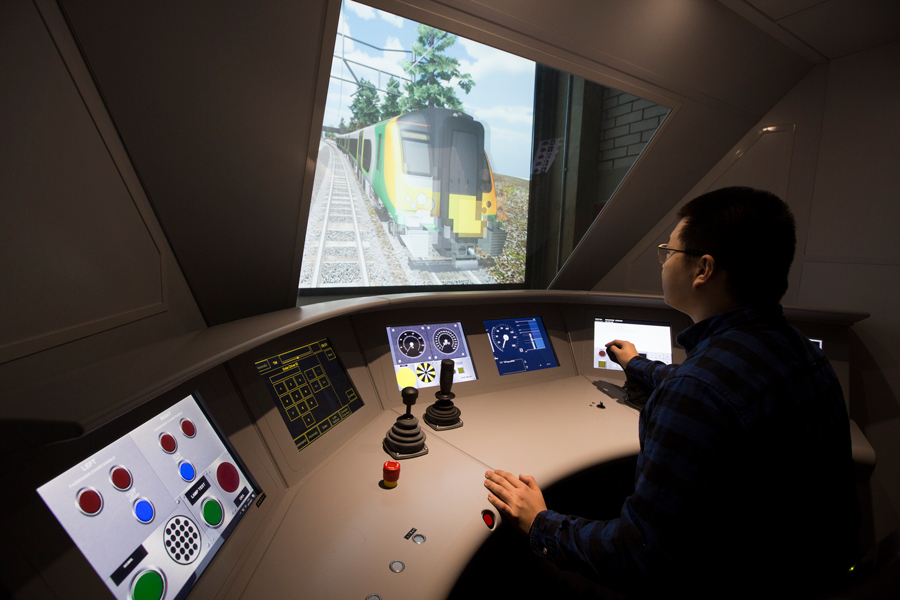 The University of Birmingham has been awarded a Queen's Anniversary Prize for Higher Education in round Twelve (2016-18) for its contribution to making railways around the world safer and more efficient.
This prestigious national honour has been approved by The Queen on the advice of the Prime Minister following recommendations by the Awards Council of the Royal Anniversary Trust which administers the Prizes scheme.
The Birmingham Centre for Railway Research and Education (BCRRE) at The University of Birmingham is the largest university-based centre for railway research and education in Europe. Its research partnerships see experts working with over 50 companies in more than 20 countries.
The University of Birmingham also leads the newly-created UK Railway Research and Innovation Network (UKRRIN) - a £92 million partnership between the rail supply industry and eight universities to carry out research that aims to establish the UK as a world-leading centre of railway excellence.
Birmingham last won the award in 2011 in recognition of its expertise in formulation engineering supporting multinational industrial partners in the development and manufacture of high-quality products with complex microscopic structures, including foods, paints, detergents and pharmaceuticals.
The University has been awarded the prize in the 12th round for outstanding work in rail that meets demanding national standards for excellence, innovation and real public benefit whether in the UK or globally. The University of Birmingham's world-class work benefits the UK and global rail industries in a number of areas, including:
Railway condition monitoring: reducing delays through early detection of failure;
Aerodynamic research: delivering efficiencies through changes to standards;
Energy and traction systems: delivering energy saving solutions across the industry;
Creating opportunities for small and medium-sized enterprises (SMEs) in rail; and
Exporting education and research services to Singapore.
University of Birmingham Vice-Chancellor Professor Sir David Eastwood said: "The University of Birmingham is proud and honoured with this prestigious award, which reflects our outstanding contribution to the UK and global rail industry over many years.
"From a foundation of world-class research, BCRRE has developed a comprehensive set of relationships with the rail sector that allow it to play a leading role in creating innovative solutions to complex problems that make a real difference to the operation of the railways.
"Innovations such as 'intelligent' monitoring of points, which has reduced faults and delays by over 25%, and enabling networks to carry out maintenance without fully closing lines are just some of the ways in which we are helping rail providers better serve their customers.
"We have been influential in developing the UK's National College for High Speed Rail and are a leading global provider of railway education. We have a track record of educating the world's future rail leaders, whilst our leadership of the UK Rail Research and Innovation Network (UKRRIN) will help Britain to shape the global development of railways."
BCRRE's work delivers substantial improvements across the rail industry. The Centre's high level of industry research funding and partnerships with companies and academic institutions from around the world, including Singapore, Japan, China, the USA and throughout Europe, position it as a major world-wide player in the railway research field.
Professor Clive Roberts, Director of the Birmingham Centre for Railway Research and Education, said: "We are delighted to receive this most prestigious accolade for the work of BCRRE, which benefits railway networks and train operators in the UK and around the globe.
"With our focus on improving capacity, reducing energy consumption, and enabling significant cost reductions, BCRRE's work results in improvements to services benefiting all rail users. Rail has a vital role in creating the world of tomorrow and we are looking ahead to the next phase of railways transformation.
"BCRRE will play a key role in the large-scale international collaboration needed to digitise the railways and deliver the innovations required to ensure their future success as a safe, fast, high capacity and environmentally-friendly transport mode."
The University of Birmingham leads UKRRIN, which won £28.1 million funding from the UK Research Partnership Investment Fund (UKRPIF) managed by the Higher Education Funding Council for England (HEFCE) – following a bid successfully led by the University of Birmingham. The funding will be boosted by £64 million of support from 17 industrial partners including Alstom, Siemens and Bombardier Transportation.
The UKRPIF funding will be used to create three linked world-class centres of excellence, forming the research heart of UKRRIN, which will focus on Digital Systems - located at the University of Birmingham - as well as Rolling Stock and Infrastructure.
For more information, please contact: Tony Moran, Interim Head of Communications on +44 (0)121 414 8254 or +44 (0)782 783 2312.
The University of Birmingham is ranked among the world's top 100 institutions. Its work brings people from across the world to Birmingham, including researchers, teachers and more than 5,000 international students from over 150 countries.
Railway research at the University of Birmingham began with research on metro service control modelling in the 1970s and 1980s and continued with studies on power supply modelling for mainline and metro railways in the 1990s. To support railway research post-privatisation the Engineering and Physical Sciences Research Council (EPSRC) set up Rail Research UK (RRUK): a consortium of eight universities jointly led by the University. Between 2003 and 2010 this enabled fundamental and applied collaborative research to be carried out, and resulted in a number of well-established research groups in the University coming together to form Birmingham Centre for Railway Research and Education in 2005.
Today, more than 125 people with a major research interest railway science and technology undertake research at BCRRE, including 15 academic staff, 18 post-doctoral researchers, 95 research students (PhD, MPhil and MRes) and four international visiting researchers. There are currently 340 postgraduate taught students undertaking courses at the Centre, including 176 students employed in the rail industry who are being taught a bespoke postgraduate programme. There are also 24 undergraduate students enrolled in railway-specific degrees.