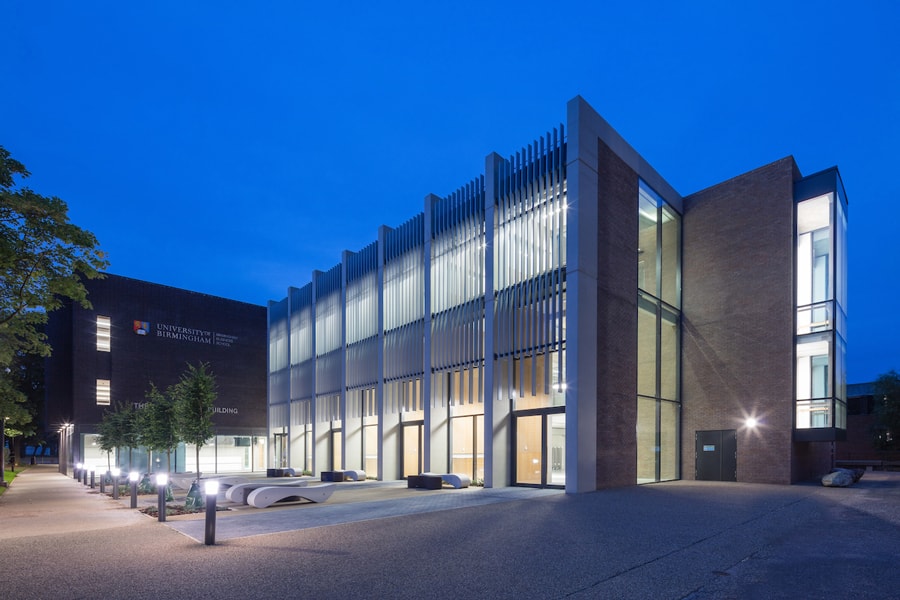 Birmingham Business School's new Postgraduate Teaching Centre has won a coveted regional architecture award.
The £10 million Alan Walters Building opened its doors in autumn 2016 as part of the University of Birmingham's Business School, dedicated to postgraduate study and has now been recognised by the Royal Institute of British Architects at a regional awards ceremony.
Professor Andy Lymer of the Business School said: "We are thrilled that this project, which has provided a world-leading new home for our postgraduate students, has been recognised in this way. The building is a pleasure to study, work and teach in, and so it was wonderful to receive the RIBA judges' confirmation of the outstanding nature of this building."
Kevin Small, who managed the construction project for the University said: "This award pays tribute to the talents of the architects in designing such an elegant building, but it is also a reflection of the thousands of hours of effort and expertise contributed by a whole team of people."
Designed by Berman Guedes Stretton and constructed by Clegg Construction, the building will now be considered for a highly coveted RIBA National Award in recognition for architectural excellence, due to be announced in June.
Regional Jury Chair, Natalia Maximova, said of this year's Award-winners, including the Alan Walters Building:
"This year's winning projects prove that a good architecture should allow its user a space and time to absorb and to reflect. The selected designs frame our experience of the buildings and spaces rather than dictate it. They highlight the fact that there is no true architecture without a clear vision and a strong concept. Originality remains a highly valued commodity and a source of inspiration for others and therefore should be recognised.
"The winners deliver an architecture with a narrative and a poetry, while also fully responding to the functional needs of the facilities they created. It is a year of quieter and well-mannered design, nevertheless, no less confident and powerful for that reason.
"The Jury felt that the [Alan Walters] building is a fitting addition to Birmingham Business School. Much calmer in its scale and expression than the neighbouring 1970s landmark Muirhead Tower, it conveys quiet confidence and inner poise through its dignified internal spaces and careful detailing. The architects are very much in control of their design, where every element is carefully chosen and intentional."
For more information, contact Sally Xerri-Brooks Communications and Stakeholder Engagement Manager at the University of Birmingham, on +44 (0)121 414 5028.
Find out more about the Alan Walters Building.