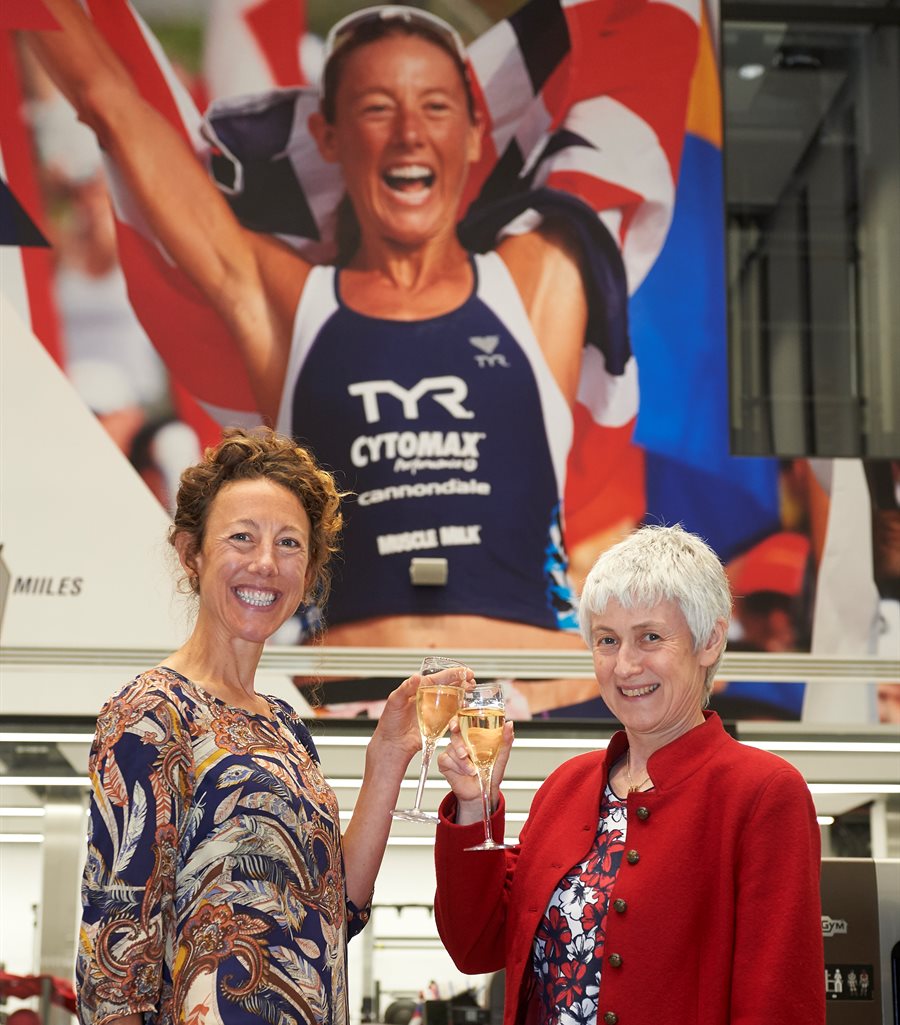 British triathlete and four-time Ironman World Champion, Chrissie Wellington OBE, officially opened 'Chrissie's Gym' today (Monday 12 June) at Birmingham's brand new Sport and Fitness building.
Chrissie's Gym was named following a public vote launched in 2014 to name the pioneering new gym facility at the University of Birmingham's Sport and Fitness building. The state-of-the-art facility features 200 pieces of gym equipment by Olympic supplier, Technogym, benefiting from advanced, integrated wellness app facility to track progress, interactive screens for improved entertainment and motivation, and 25 pieces of inclusive equipment to enable members with physical impairments to train effectively and comfortably. Environmental-conscious equipment has also been embedded to include low energy treadmills and self-powered skillmills.
Chrissie, who is the Global Lead for Health and Wellbeing for Park Run, attended an official dedication ceremony at the gym to celebrate with staff and students from Sport and Fitness, as well as local community sport representatives and a number of alumni and donors who generously supported the development of the new building, which opened to the public on 22 May this year. It encompasses an array of facilities, including Birmingham's first 50m swimming pool, a large multi-sports arena, six glass-backed squash courts, a 10m climbing wall and five activity studios.
Chrissie Wellington OBE said: "My dad told me on my first day at the University of Birmingham to make a mark for all the right reasons. To know I have left a mark like this gym is very important to me. For me it is less about winning medals, it's more about inspiring people to achieve more and live healthy active lives. This gym will help the University do that and I am proud to formally open it today."
Zena Wooldridge OBE, Director of Sport at the University of Birmingham said "It is a pleasure to welcome Chrissie back to the University and we are delighted to officially open the outstanding facility. Chrissie's gym is the result of several years of hard work and planning to develop a first class gym facility that meets the demands of tomorrow's champions. We look forward to welcoming athletes and aspiring sports stars to the fantastic facility and supporting all of our members to achieve their personal goals."
ENDS
For further information, please contact Samantha Williams, Communications and Stakeholder Engagement Manager, University of Birmingham, +44 (0)121 414 3984 / +44 (0)7812671797
Image caption: Chrissie Wellington OBE with Zena Wooldridge OBE, Director of Sport at the University of Birmingham, in Chrissie's Gym.
• University of Birmingham Sport & Fitness is open daily from 06:00 - 22:30 on weekdays and from 07:00 until 20:00 at weekends.
• University of Birmingham Sport & Fitness was designed and built by Interserve.
• The University of Birmingham is currently ranked in the top ten universities for sport in the UK.
• The University has also invested in new outdoor sport facilities which are planned to open this year including an athletics track, new pitches and a pavilion.
• The University of Birmingham is ranked amongst the world's top 100 institutions, its work brings people from across the world to Birmingham, including researchers and teachers and more than 5,000 international students from over 150 countries.