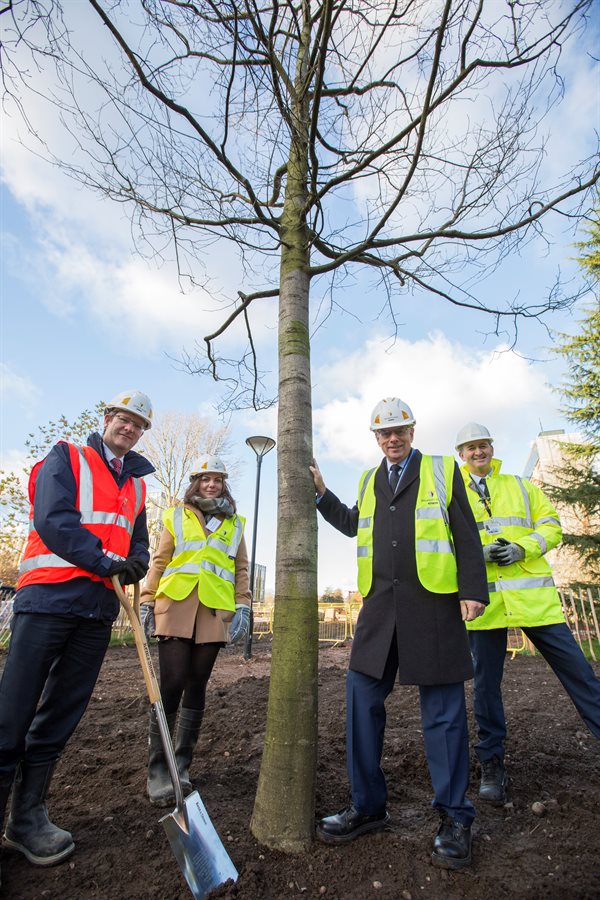 The first wave of carefully selected mature trees have been lowered into the Green Heart, with the first one ceremonially planted by Vice Chancellor Professor Sir David Eastwood.
University of Birmingham's Green Heart is a visionary 12 acre parkland at the centre of our historic campus. The ceremony yesterday (Tuesday) celebrated the beginning of an ambitious planting project which will see 160 new trees incorporated onto campus by 2019. The new trees will join 144 already in situ.
The Green Heart will create a sustainable, natural and environmentally friendly landscape; both for people and wildlife. Not only will the Green Heart enhance the University's ecology, but the parkland will provide a unique space for performances, socialising, meeting and studying, while opening up views across the whole campus, as envisaged in the 1920s.
Vice Chancellor Professor Sir David Eastwood said: "It is something of a formidable sight to see these mature trees appearing in our landscape. I am honoured to plant one of the first of these specimens, which have been carefully chosen by our arboriculturalist. It will be through trees such as these that we will see the transition of seasons in our Green Heart for generations to come."
Director of Estates Trevor Payne said: "In my role, I have the pleasure of overseeing some truly transformational projects. I would suggest that the Green Heart is the most transformational of all. Its vision and scope have the potential to create a positive impact on students, staff and the community decades into the future.
"I cannot wait to see the next phase of the Green Heart come to completion, and look forward to seeing the remainder of the trees being planted."
Ellie Keiller, President of the Guild of Students, said: "Environmental concerns are, increasingly, a high agenda item for students at Birmingham. This is why I'm delighted to be here, to witness the early stages of the Green Heart project, our new dedicated natural and sustainable space for students, staff and other visitors to our beautiful campus."
Masterminded by the University of Birmingham and Associated Architects, contractors Willmott Dixon have a large team on site every day bringing the vision to life.

The Green Heart will be completed in 2019, and has incorporated a wide range of views in its design, for example:
A range of wild flowers and native plants, 160 new trees, water features and nesting sites
Space for markets, performances and events, including a grass auditorium and outdoor cinema
A new café and bar
Energy saving technologies, zoned lighting and energy generating paving
Dedicated areas for art, sculptures and the University's collections.
For further information, please contact Communications and Stakeholder Engagement Manager Sally Xerri-Brooks on +44 (0)121 4143984.