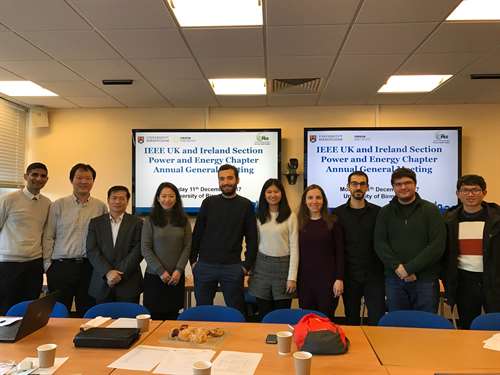 The annual general meeting of the IEEE Power and Energy Society (IEE PES) for the United Kingdom and Ireland section is a pinnacle event in the society's calendar. During the meeting hosted by Professor Xiao-Ping Zhang, the IEE PES reviewed their performance and key achievements for 2017. Of these, noticeable achievements included being presented the High Performance Chapter Award and being able to maximise on results while keeping the financial footprint low.
The officers then went on to discuss their significant plans for 2018, these included the strategies for new student branches, reviewing the budget for 2018 and allocating funds for development activities, such as student presentation competitions. Several ambitious projects for senior membership, such as the IEEE PES Fellow event, were also scheduled in to the 2018 events calendar.
The meeting ended with elections for next year's roster, with most of the officers volunteering for another year. Above all, the annual general meeting provided a great platform for the officers to establish the foundation for an even better collaboration in 2018.
The IEEE is the world's largest technical professional organization dedicated to advancing technology for the benefit of humanity and the United Kingdom and Ireland section of the IEEE is dedicated to providing the latest scientific and engineering information on electric power and energy. By working collaboratively with leaders in industry and academia, the IEEE PES for the UK and Ireland section are able to develop standards that guide the development and construction of equipment and systems, all whilst educating members of the industry and the general public.