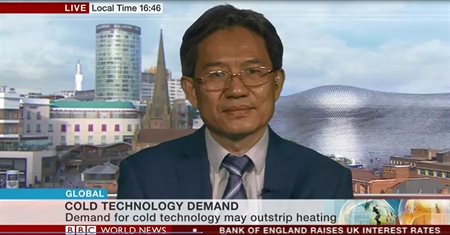 The 2018 UK heatwave has reached record breaking temperatures, enforced hosepipe bans, caused wildfires and increased requirements for artificial cooling. Professor Yulong Ding, Director of the University of Birmingham's Centre for Energy Storage spoke to BBC World News about the growing global need for cooling, its consequences and the possible solutions.
A recent report published by the University of Birmingham identified that there are 3.6 billion cooling appliances worldwide and this is forecast to increase to 9.5 billion by 2050. It is predicted that we will soon be using three times as much energy to cool down but the irony is, the more we cool down the more we heat the planet up.
Professor Ding explained to Matthew Amroliwala that an increased use of cooling technologies increases the number greenhouses gasses and intensifies the need for energy consumption on an already stressed energy system.
With temperatures continuing to rise in the next few decades, for the first time in history, the global demand for cooling technologies such as air conditioning and refrigeration will outstrip demand for heating. Cooling does not just make hot conditions bearable to work and live in, it preserves food and medicine.
During the interview Professor Ding advised that inadequate cooling results in an estimated 40% of food becoming waste before it can be consumed. He added that hot countries such as China and India also suffer from broken cold chains, which further increases the amount of food waste.
A complete cold chain is an integrated network of temperature-controlled pack houses, storage, distribution hubs and vehicles that are used to maintain the quality and quantity of food produce, while moving it swiftly from point of harvest to consumption point. This is key to enhance prosperity for subsistence farmers and improve food quality, safety and value to the consumer; and achieve this sustainably with minimum environmental and natural resource impact.
To overcome the challenges addressed in the interview, Professor Ding advised that practical solutions and technologies surrounding cooling need to be developed. For example, temperatures in parts of the sky are -200ᵒC and parts of the world suffer from extremely cold winters. If we were to develop a way to harvest this cold and store it, this clean cold energy could be used throughout the entire cold chain.