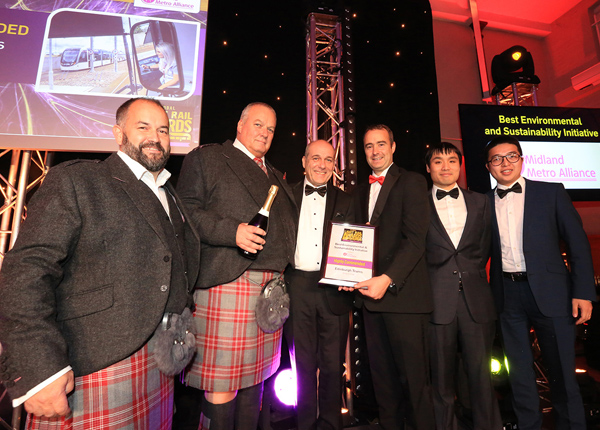 Researchers from the Birmingham Centre for Railway Research and Education (BCRRE) are part of a collaboration which has won an award at the Global Light Rail Awards.
BCRRE researchers worked with Ricardo Rail to develop 'SmartDrive', a unique, cost-effective approach to reducing traction energy costs by up to 25%, which has now been implemented by Edinburgh Trams. Edinburgh Trams were highly commended in the Best Environmental and Sustainability Initiative category in their implementation of SmartDrive at the ceremony in London on October 3rd.
SmartDrive was developed using software created by BCRRE researchers to encourage energy efficient driving techniques - such as coasting points and appropriate cruising speeds - that can help minimise energy usage within a constant total journey time.
Driver teams are then taught how the information was gathered and shown where they can help reduce energy usage by changing behaviours at certain points of the route. Because SmartDrive involves no in-cab displays, the approach is more focused on education empowering drivers to apply more efficient behaviours as they see fit and when conditions allow, a feature that has helped encourage its adoption.
As a result of more efficient transitions between acceleration, coasting and braking, passengers also benefit from a smoother ride experience; significantly less traction energy usage while less frequent braking will reduce wear and tear and require less maintenance.
Stuart Hillmansen, Senior Lecturer in Electrical Energy Systems who led the research at BCRRE said: "We are delighted to be part of a partnership that has won this award and with the benefits that SmartDrive is having on the passenger journey and energy usage. The project demonstrates the benefits of academia and industry collaboration to create effective and economical solutions for our railway system."
Ricardo Rail said: "We congratulate Edinburgh trams for their award during this week's ceremony. It has been really encouraging to see SmartDrive make such an impact in such a short space of time, and for it to so quickly gain recognition for its impact on helping reduce energy usage and related costs for operators."
Colin Kerr, Engineering Manager at Edinburgh Trams said: "It was our pleasure working with BCRRE on this project and we're delighted that our collaborative work has been recognised by one of the top award ceremonies in our industry."
Ricardo Rail was also shortlisted for the same initiative in the Technical Innovation of Year (Rolling Stock) category.
The Global Light Rail Awards celebrate the most outstanding contributors to the Light Rail industry. An expert panel of judges evaluated almost 100 entries last year, deliberating over a range of projects that covered customer experience, safety and technical initiatives, engineering and operational excellence, and system design.